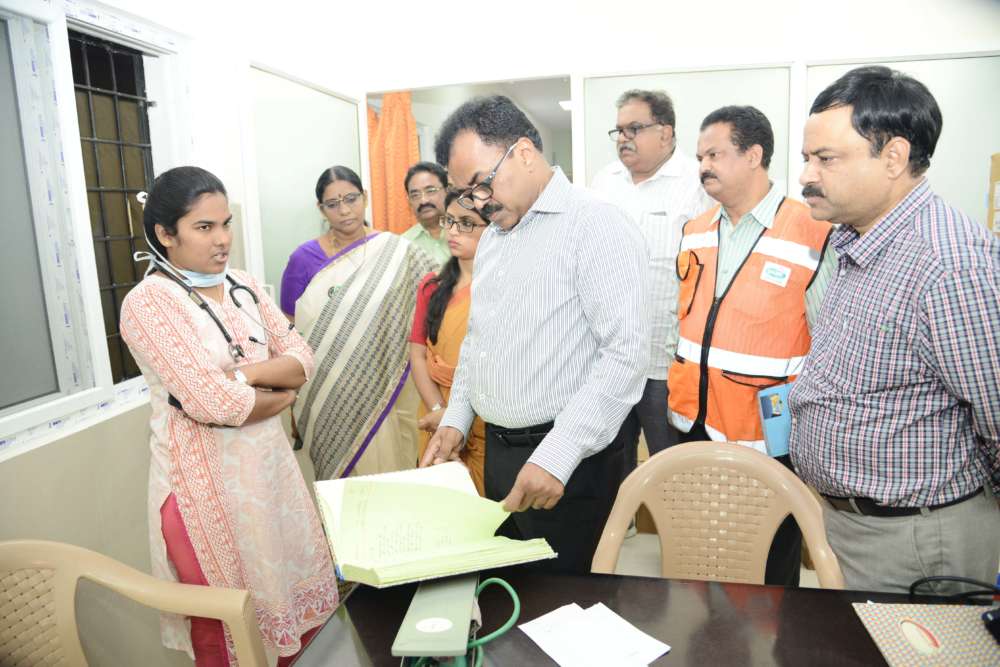 Hyderabad: Commissioner GHMC, Dana Kishore, made surprise inspection in Basti Dhawakanas, night shelters and Bansilal function halls to get the first-hand information on the functioning and performance.
Commissioner along with Additional Commissioners visited and inspected the Basti Dawakhana at Shamlal Building, Begumpet. During inspection, the commissioner found that the majority of people are coming from slum areas for treatment. Presently on an average 80 patients are coming for treatment and it should increase to 200. He also instructed the officials to take steps accordingly.   
The patients who are coming for treatment of Blood pressure, Skin Diseases and the Commissioner instructed to Hyderabad District Health officials to provide BP checking equipment to all Basti Dawakhanas. Commissioner also suggested to take up plantation in and around Basti Dhawakana.  
Basti Dawakaha in each Slum area
There are 1,451 slums in GHMC areas out which 986 notified ones and 465 non-Notified slums. Presently 112 Urban Health Centres are functioning of these 98 centres are in Government Buildings. Apart from these health centres, there is a proposal to provide 200 more Basti  Dawakahas in order to reach the people who do not access medical facilities in slums. Around 105 Basti Dawakhans are functioning efficiently said the Commissioner.
Dana Kishore also inspected the night shelter in Begumpet areas and enquired about the facilities provided at the night shelter, health checkups Presently 12 Night Shelters functioning out of this 8 male and 4  female shelters, with the cost 9.71 crores another 7 nights shelters in different stages of progress.
Bansilal Multipurpose Function Hall
Commissioner Dana Kishore inspected the Multipurpose Function Hall, which is functioning under GHMC and said these multipurpose function halls will be available with a nominal fee of Rs.20, 000 only. For poor people who cannot afford, the GHMC is giving the community hall at a nominal cost. GHMC is also going to construct 16 multi-purpose community halls with the cost of 30.32 crores and some of them are put into use said the Commissioner.    
Subscribe us on