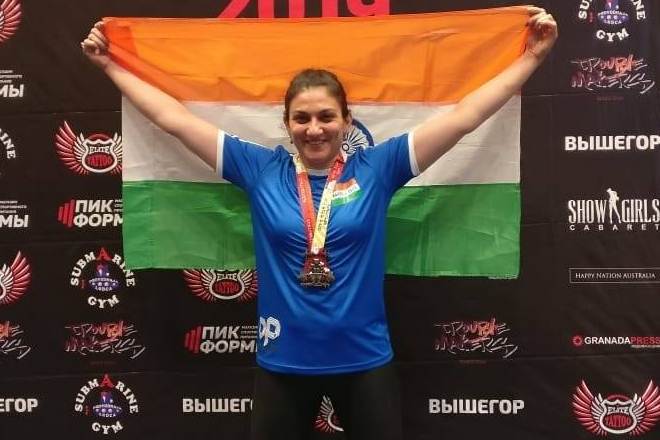 Roshan Bint Raheem
India: A 47-year-old Bhavana Tokekar, who hails from Maharashtra, a mother of two teenagers, defined the norms, who won four gold medals at the Open Asian Powerlifting Championships organized by the World Powerlifting Congress (WPC), in Chelyabinsk, Russia on Sunday.
The competition had 500 players taking part, of which, 14 were from India. Tokekar, who weighed in 64.9 kg, took part in the 'Under 67.5 Masters 2'category. This was her first competition.
Bhavna Tokekar, whose husband Gp Capt S Tokekar is an Indian Air Force fighter pilot, encouraged her to join the gym classes.
Initially, she took up gym classes to reduce the side effects of medicines she took for the treatment of skin inflammation. But it was when IAF bodybuilding team told her about the benefits weight lifting in increasing her body strength that her liking for weight lifting reached its peak.
She began her training at 41 but wanted to be sure so that she won't injure herself doing the wrong technique.
At first, She exercised restraint and chose to clarify myths surrounding bodybuilding and other strength sports, especially those related to women.
Bhavna, a full-time homemaker, then took to the net and researched about weight lifting through YouTube videos and read in-depth about it.
During these days, she followed handles on Instagram which give out information on fitness. She came across World Powerlifting Congress (WPC) Karnataka and Andhra Pradesh state head Mohammed Azmat on the app and got inspiration from him.
She said that "it was on February 10 that I asked him if I could participate in the powerlifting event as a part of team India. Mr. Azmat quickly responded to my query and asked me to take part in the trials which were going to be held in Bengaluru(Bangalore)."
Taking heed, Tokekar attended the trials in May and got selected for the Masters2 category (45-50 age groups).
She had to go through certain technical corrections for powerlifting and learn the regulations. Finally, her intense training, dedication and passion bore fruit in the form of four gold medals in her maiden event. Tokekar is now preparing for WPC World Championships 2019.
Subscribe us on