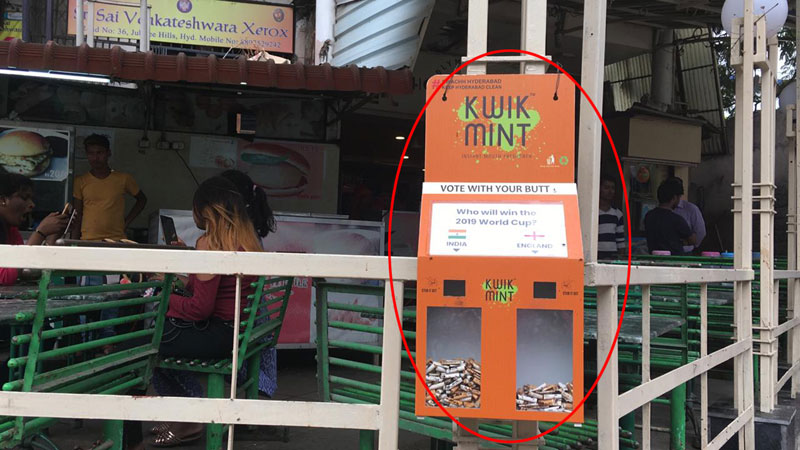 Hyderabad: To promote Swacch Hyderabad, as part of the corporate social responsibility initiative Azista a private company is going to install 500 special Kwik-Ballot Bins in the city. These bins will be set up at paan shops and retailers will inform their customers to throw the cigarette butts in the Ballot Bin.
The Ballot bins ask the people's opinion that Who will win the 2019 World Cup? India or England. They can vote with their butt all they have to do is just throw their used cigarette butt into the respective section.
The aim of the initiative is to spread awareness among masses that not to litter the road with used cigarette butts. The company officials said, "Used cigarette butts are an environmental hazard. The butt takes 12 to 13 years to degrade; they release harmful toxins that leach into our water and landfills. These butts need to be effectively collected and recycled and shouldn't be mixed with the regular garbage."
Azista officials said, "We encourage the paan shop retailers to inform their customers to throw the cigarette butts in the ballot BIN. The collector will collect the cigarette butts from each BIN once in a week and later it will be sent to the recycling companies. Their cigarette butts recycle into reusable plastic non-toxic materials that can be used."
According to a study, cigarette butts continue to be the most common littered item in India.
A toxicologist says that a cigarette butt contains chemicals like cadmium, arsenic, and lead. The butts are composed of cellulose acetate fiber that is thinner than a sewing thread and packed tightly together to form the filter. It may look like cotton, but it is not biodegradable.
mohammedhussain.reporter@gmail.com
Subscribe us on