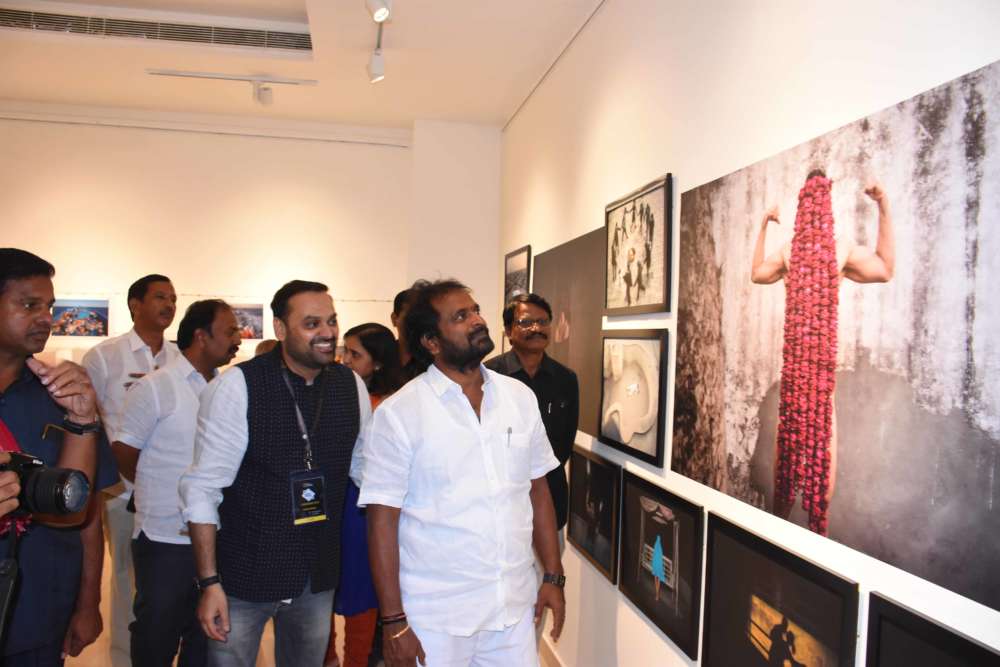 Hyderabad: The month long 5th Edition of IPF-2019, the South Asia's largest photography festival kicked off here in the city at State Art Gallery, Madhapur
Tourism Minister Srinivas Goud graced the event post the inauguration and undertook a gallery visit. He appreciated organisers for organising the festival in such a grand scale.
He instructed Dr. K Lakshmi, Director Art Gallery to organise a photo exhibition with rare photos of Telangana agitation similar to what was held in New Delhi sometime ago.
The state of the art gallery is one of the best in India and I am happy to note that it is hosting South Asia's biggest photography festival.
I am happy to note that National Geographic is partnering with this event. Photography is an art. It recreates history. One photo is sufficient enough to tell a story equal to one thousand words. Photography showcases moments of current day society to the future generations, the minister added.
Welcoming the gathering Aquin Mathews, The Festival Director said the mission of IPF, is making photography ACCESSIBLE and CREATE a platform for conversation. REACH audiences who might not normally attend art exhibitions and events.
Create AWARENESS about photography and bring a plethora of topical social issues to the public through the medium of photography.
PROMOTE culture and heritage through photography. EDUCATE and ENGAGE young & emerging photography talents from the country. He thanked National Geographic, Govt of Telangana and Tourism department for supporting the event.
George Steinmetz, an American photographer delivered key note address on "Big Food" The year 2050 requires double the food. My exploration started to photograph massive food production units and fields to understand how they are gearing up to meet the required me to he stated.
By 2100, the world's population is expected to go up to 11 billion. Between the population surge and increased demand the world will need to double its food supply he added speaking to media after his presentation
George Steinmetz spent years to capture systems, in all its scope, grandeur and dizzying scale. Very few food producers were willing to open themselves to the public view with the kind of photography I did, he shared.
Best known for his exploration photography, George Steinmetz has completed more than 40 major photo stories for National Geographic and 25 stories for GEO magazine in Germany.
George has showcased his works on massive food production units across USA, Spain, Middle East, Japan, Yemen and other countries.
George for whom this is the first visit to Hyderabad second to India, soon would like to travel to Kerala to take pics mass spice production and packaging units there.
Richard Drew, 73years, is an Associated Press photo-journalist also spoke on the occasion. He is known all over the world for capturing the Falling Man from the World Trade Center towers following the September 11 attacks. Drew was one of four press photographers present at the assassination of Robert F. Kennedy. He has been an Associated Press photographer for over 40 years and lives in New York City.
British photographer Tim Flach, an animal photographer is known for taking human-like portraits of animals also addressed on the occasion. It is a third visit for me to India. I have travelled to Rajasthan earlier he informed. Connecting people with the nature is a huge role he said. He picturized a lot of endangered animal species and published a book 'Endangered' featuring his works. Flach is an Honorary Fellow of the Royal Photographic Society and lives in London.
Rachael Strecher is Director of Media Innovation at the National Geographic Society said it was pleasure and great honour to participate in the event. She leads grantmaking to support photographers, writers, filmmakers, data visualization experts, cartographers and other storytellers. Formerly she was with Aspen Institute's New Voices Fellowship, a program designed to bring expert voices from the developing world into the global development discussion. Rachael began her career as a photojournalist with Associated Press and other outlets.

RAFIQUE SAYED a fine art professional photographer, who says he got into it more by chance than choice. He said Black and White is the finest medium to portray human emotion. Fashion photography turned reality photographer has more than two decades of experience and manyaccolades.
He describes himself as a photo artist. He is known for his distinctive style of photography. He prefers black and white medium which according to him is the finest medium to portray the human emotions.
The dramatic play of light and shades makes his pictures distinctive.
IPF PORTRAIT PRIZE 2019 judged by Rafique Sayed, the leading Indian fine art photographer was announced during the inaugural function Ankita Jain for the "Image Mourning for the Dead" bagged first prize and won 50,000 cash prize; Prashant S for the image "Head Space" bagged second prize and won Rs 25000/- and Joydeep Mukherjee for the image "The Kid" got third prize and won Rs 10,000/- cash prize.
The winners were chosen out of 2000 plus photographers competing for the same.
The 'Indian Photography Festival' PORTRAIT PRIZE 2019 is a portrait competition open to the photographers from the Indian subcontinent.
Photographers have been making portraits for centuries and what's so interesting about portraiture is its ability to capture the essence of a person, a time-period, or a culture. This award aims at discovering the compelling portraits and extra-ordinary talents.
The jury comprised of P. Sainath – Journalist; Srinivas Kuruganti – Photographer and Rishi Singhal – Photographer/Educator chose winner for the Photography Grant 2019.
And the winner of the Rs. 3 Lakhs grant was Siva Sai Jeevanantham for his project – "In the same river", the jury announced.
They received total 141 applications for the grant. Siva Sai from Chennai a student of Design was chosen fir the same.
The IPF Grant recipient received INR 3,00,000 for the production of the proposed project.
The Indian Photography Festival (IPF) Grant is designed to support an Indian photographer in completing an ongoing photographic project in India.
The winner will also get to exhibit and present their work at the festival's 2020 edition. They will have access to workshops and portfolio reviews at the 2019 edition and possible opportunities for exhibition at partner photo festivals across the world.
Speaking on the occasion Siva Sai said his project is "Enforcement Disappearances" and collection of photos of those Kashmiris who disappeared. Dr Lakshmi, Director of Art Gallery, Jyothy Karat also graced the occasion.
Subscribe us on