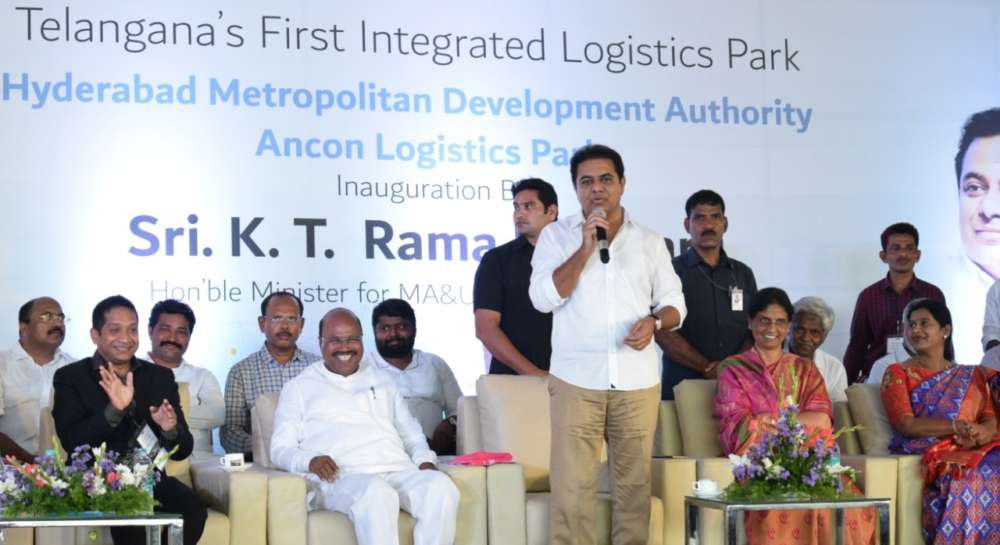 Hyderabad: Eight logistics parks will be developed along Outer Ring Road (ORR) as part of the plans to make Hyderabad a global city by focusing on development of the suburbs, Industry Minister K T Rama Rao said on Friday.
In his address after inaugurating a logistics park developed by Ancon Group in partnership with Hyderabad Metropolitan Development Authority (HMDA) at Mangalapalle in Ranga Reddy district on the outskirts of Hyderabad, he said this was the first-of-its-kind integrated logistics park developed in Public Private Partnership (PPP) mode.
KTR also announced that the second logistics park will be inaugurated in 3-4 months at Batasingaram. Spread over 22 acres, the logistics park at Mangalpalle has 2.5 lakh square feet of grade A ware-house space.
It has facilities such as parking for 250 trucks, warehousing, automobile service centres, fuel stations, provision for cold storage, a primary health centre, dormitories and restaurants. The logistics park will provide direct employment to 800-1,000 people and indirect employment to 2,000 people. KTR, who is also the Minister for Information Technology, Urban Development and Municipal Administration, said eight more logistics parks will come up along 162-km long ORR, which has 19 interjunctions.
Stating that logistics is one of the 14 thrust areas identified in the state's industrial policy, the minister said these parks would facilitate industrialisation in all four directions around the city and through decongestion ensure there is not much pressure on the city infrastructure. He hoped that this would help overcome problems associated with urbanisation.
He said three inter-state bus terminals were proposed on the city outskirts – one in south and two in north. KTR, who is son of Chief Minister K. Chandrashekhar Rao, said two major railway terminals were also coming at Cherlapally and Nagulapalle. They will be interconnected with bus terminals to provide multi-modal transport system.
He said these along with a dry port to be developed by the Industry Department would provide further boost to industrialisation. Referring to the development in Ibrahimpatnam constituency where the logistics park has come up, KTR said another aerospace park will be developed at Eliminedu village. The government is in the process of acquiring 500-600 acres. One aerospace park is already functional at Adibatla on the outskirts.
The Minister said the world's largest pharmaceutical cluster was also coming up at Mucherla. This will be spread over 18,000-19,000 acres. He tried to allay apprehensions that the pharma cluster could lead to pollution. He said the Pharma City would be a world-class facility and would be equipped with the latest technology.
"The Chief Minister has already made it clear that the cluster without clean technology will not be acceptable," he said. Stating that the facility will provide employment to local youth, KTR advised people not to believe those who were creating rumours. "They are against the development," the minister said without naming anyone.
Rajashekar Vodela, Managing Director, Ancon Constructions, said the logistics park comprised large-format grade-A ware- houses, truck parking space and co-located workspaces. Hs said omestic logistics and supply chain partner, Udaan has already been signed as the first customer occupying 1.20 lakh square feet.
Subscribe us on