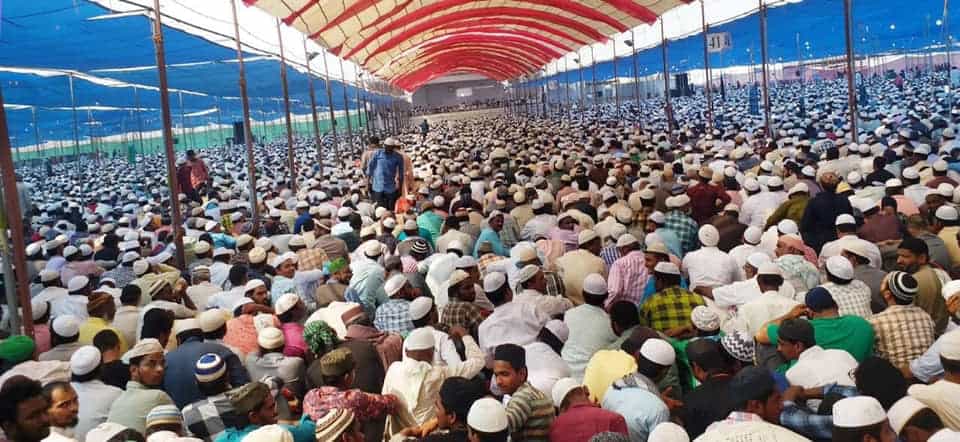 By Pervez Bari
Bhopal: The curtain came down on the 72nd chapter of 4-day Aalami Tableeghi Ijtema (World Preachers' Congregation) on Monday last after Maulana Muhammad Sa'ad Kandhalvi, chief of the "Tableeghi Jama'at", conducted the "Dua" (Supplications) in a mix of Arabic, Urdu and Hindi which lasted about half an hour.
Lakhs of Muslims including Islamic scholars and intellectuals drawn from across the globe attended the four-day congregation, considered as the third biggest gathering of Muslims after Hajj and a similar congregation in Bangladesh. The venue of the "Tableeghi Ijtema" had turned into a sea of humanity. Many people had to trek several kilometres to reach the site as vehicular traffic was not allowed to avoid congestion.
An aura of spirituality pervaded through the central Indian state of Madhya Pradesh capital Bhopal, the city of lakes, hills and Masjids during the four day event. A tent city spread over several acres of land had come up about 15 kms on the northern outskirts of Bhopal city at Ghasipura in Eintkhedi village with a huge "pandal" to house the "Jama'ats" (Groups of devotees) who had descended here.
Meanwhile, continuing "Dua" Maulana Sa'ad, who is the grandson of "Tableeghi Jama'at" founder Maulana Muhammad Ilyas, from the headquarters at Hazrat Nizamuddin in New Delhi, sought divine blessings for peace, progress and unity of Muslim Ummah and mankind at large. He prayed to Allah Almighty to bless the entire world with His final message so that the entire mankind could succeed in the eternal life.
Maulana Sa'ad solicited from the Allah to forgive people's sins, to overlook the mistakes and lethargies of the Ummah and end our life on dependence. He solemnised, "We are innocent and are guilty, show us the righteous path and inspire us so that we could follow the path of Prophet Mohammed (PBUH). We have wandered and are nervous, we are victimised, show us the righteous path", he added.
People also took part in "Dua" from nearby homes, on the roof tops of houses and buildings, sitting on roadsides or shops or on trees. Apart from "Jama'ats" from all over India, delegations from many foreign countries, viz. Iran, Afghanistan, UAE, Oman, Bahrain, Qatar, Kuwait, Saudi Arabia, Jordan, United Kingdom, South Africa, Nepal, Sri Lanka, Thailand, Indonesia, Malaysia, Philippines, Canada, USA, Russia, Cambodia, Vietnam, Kazakhstan, Turkey etc. participated in the "Ijtema".
As soon as the "Dua" started pin drop silence prevailed but resonated at short intervals with Aameen (Amen) of the huge assemblage of several lakh devotees while Maulana Sa'ad pleaded with the Almighty Allah for forgiveness of one and all.
Earlier, before the "Dua" Maulana Sa'ad in his religious discourse urged Muslims to lead an upright life in this world so that they could be rewarded in the life hereafter. He stressed them to become messenger of peace so that humanity at large could benefit from them. He highlighted the importance of "Namaaz" and emphasized the need to acquire Islamic teachings. He also emphasised on recitation of Quran and called on the Ummah to go through its translation if they do not know Arabic language so that they understand the message of Allah (S).
Maulana Sa'ad called upon Muslims to purge themselves of mundane pursuits and devote more time to ameliorate their infinite life in the world hereafter by total submission to Allah Almighty. He urged the people to first purge themselves of the sins and then reach out to more and more people to convey the message of Allah Almighty, which is obligatory upon the followers of the Holy Prophet Muhammad (PBUH).
Swachhta pitch- a 'Zero Waste' event
The annual Ijtema garnered much attention this year because of its unique Swachhta pitch- a 'Zero Waste' event. A team of four people documented the event to get it into the Guinness Book of World Records & Limca Book of World Records. Organizers of the Ijtema planned it in a manner that all the waste generated during the event was converted into energy or a positive product. The project has earned the attention of the Bhopal Municipal Corporation as well.
Teams from the UNDP (United Nations Development Programme) and other concerned agencies including Urban Development Department inspected the venue and observed the best practices adopted in the event. These practices included water treatment after use, waste converted into electricity and recycling the plastic waste.BMC commissioner; Vijay Dutta confirmed that all the processes adopted in the event are being documented to make it into the Guinness Book of World Records.
A team of four people are documenting the process and its impact, said MP State Level Waste Management Committee, member Imtiyaz Ali. The event also complies with Union Ministry of environment, forests and climate change (MoEF&CC) recently notified the new solid waste management rules (SWM), 2016, he added.
Ijtema organizers had banned the use of tobacco products in 2013. Later, use of plastic was discouraged in the event. In the last two years, reuse of plastic waste was introduced with on-site establishment of material recovery facility, said Ijtema committee spokesperson, Atiq-ul-Islam.
An energy plant was installed at the "Ijtema" site that converted solid waste to produce biogas. About 100 kg of gas was produced facilitating about 55 food stalls. Around 4 tons of green waste per day was collected each day. Green waste has been placed in a pit and would be converted into compost pit.
Special Mobile App
The Ijtema was also unique in some other ways this year as a special mobile App was launched during the event to help the participant's access information regarding facilities available at the site and where to spot them. Since the participants at the event had come from different parts of the world, the app was available in 14 languages, including Urdu, Hindi, Bangla, Arabic, French, Spanish, Chinese, Russian etc.
Madhya Pradesh Chief Minister Kamal Nath and veteran Congress leader Digvijay Singh, who is Rajya Sabha member, also reached the Ijtema site along with minister for minority welfare Arif Aqueel and met senior clerics from across the nation to seek their blessings. They also met devotees from foreign countries.
About 12000 Muslims step out in path of Allah
Meanwhile, about 12000 Muslims registered their names to voluntarily venture out around the globe leaving the comforts of their hearth and home to cajole their co-religionists to lead an upright life as shown by the Prophet Muhammad (PBUH) of Islam. The names were registered during the four-day "Ijtema" wherein the people volunteered themselves to travel to remote places to spread the message of Allah Almighty. "Jama'ats" (Groups of preachers) stepped out from here in all directions for various period of time varying from three "Chille" (4 months or 120 days) to one "Chilla" (40 days). They will persuade their Muslim brothers to give up a life focused on materialism only but follow the tenets of Islam in letter and spirit to inculcate values of spiritualism. Thus, become a role model for others at large to follow suite in order to establish a peaceful society as ordained by the Creator of one and all.
On the second day separate special religious discourses were held during the conclave for "Khawas" (elites), intellectuals, students, "Ulema" (clerics), traders, farmers, and handicapped (Deaf & Dumb) where the participants were asked to follow the Islamic religious tenets in letter and spirit apart from spreading the message of universal brotherhood.
Special religious discourses
On the second day separate special religious discourses will be held during the conclave for intellectuals, traders, farmers, students etc. and the participants would be asked to follow the Islamic religious tenets in their spirit apart from the message for universal brotherhood. Prominent "Akaabreens" (Tableeghi elders) apart from Maulana Sa'ad, who addressed the gatherings included: Mufti Ali Qadar Husaini, Maulana Yousuf, Maulana Haroon, Maulana Shaukat, Maulana Misbah, Iqbal Hafeez etc. During the Ijtema, these famous Islamic scholars delivered sermons on the life and practice of Prophet Mohammad (PBUH) and Islamic Sharia (law). They urged devotees to improve their lifestyle adopting the path shown by Prophet Mohammad (PBUH) and Islamic Sharia, which provides total life style.
Deaf and Dumb Camp
A special feature of the Ijtema is special arrangements for deaf and dumb people who come in Jama'ats from all over the country were housed separately. The sermons from the main "pandal" were translated to them in sign language. Their disability did not come in their way to leave their home and hearth to learn and inculcate the basic teachings of Islam to become righteous Muslims.
Meanwhile, Syed Atiq-ul-Islam, the spokesman of the Ijtema Organising Committee, has thanked Madhya Pradesh Chief Minister Kamal Nath and his ministerial colleague Arif Aqueel, all the agencies including M.P. Govt., PHE, BMC, MPSRTC, Railways, MP Police, District Collector and his administration, Traffic Police, Zila Panchayat and villagers around Ghasipura & Eintkhedi and others for extending their services in making the arrangements and making the Ijtema successful.
Security arrangements
Four-layer security, traffic arrangements and lodging and boarding arrangements have been made on the venue of "Ijtema" as well as around Bhopal in view of the annual event. This year a mobile app has also been launched for facilitation of the participants.
About 200 CCTV cameras and 2000 jawans were stationed at the venue and various places. The security personnel included those from local police, home guards, RAF, SAF and others. Bomb disposal squad and dog squad along with ambulances and fire brigade were also stationed.
History of Tableeghi Jama'at
It may be mentioned here that "Tableeghi Jama'at" is a transnational religious movement which was founded in 1926 by Maulana Muhammad Ilyas, a religious scholar of the orthodox Deoband, in India in the erstwhile Mewat province which is now part of Haryana. The movement primarily aims at Islamic spiritual reformation and awakening to the world Muslims by working at the grass roots level, reaching out to Muslims across all social and economic spectra to bring them closer to the practices of Prophet of Islam Muhammad (PBUH).
"Tableeghi Jama'at" came forth as an offshoot of the Deobandi movement. Its inception is believed to be a response to Hindu revivalist movements, which were considered a threat to vulnerable and non-practicing Muslims. It gradually expanded from local to national to a transnational movement and now has followers in over 150 countries.
It may be recalled here that Maulana Ilyas learned the situation. His initial effort was to establish a network of mosque-based religious schools to educate Mewati Muslim about correct Islamic beliefs and practices. But he became disillusioned with the reality that these institutions were producing religious functionaries but not preachers. Following this, he quit his teaching position at Madrasah Mazhar-ul-Uloom in Saharanpur and moved to Basti Nizamuddin in the old quarters of Delhi to begin his missionary work. "Tableeghi" movement was formally launched in 1926 from this place.
Maulana Ilyas devoted to what he described as "the mission of the prophets". His message was simple: "Aye Musalmano Musalman Bano". The method adopted by him was equally simple. It was to organize units of at least ten persons and send them to various villages. These units (Jama'at), would visit a village, invite the local Muslim to assemble in the mosque and present their message in the form of six demands: 1. Every Muslim must be able to recite Shahadah correctly in Arabic; 2. A Muslim must learn how to say the Salaat (Namaaz) correctly; 3. To learn the basic teachings of Islam and to do Zikr; 4. To respect the fellow Muslims; 5. To inculcate honesty and sincerity of purpose in such endeavours and 6. To spend some times and travel from place to place spreading the words of Allah.
Subscribe us on