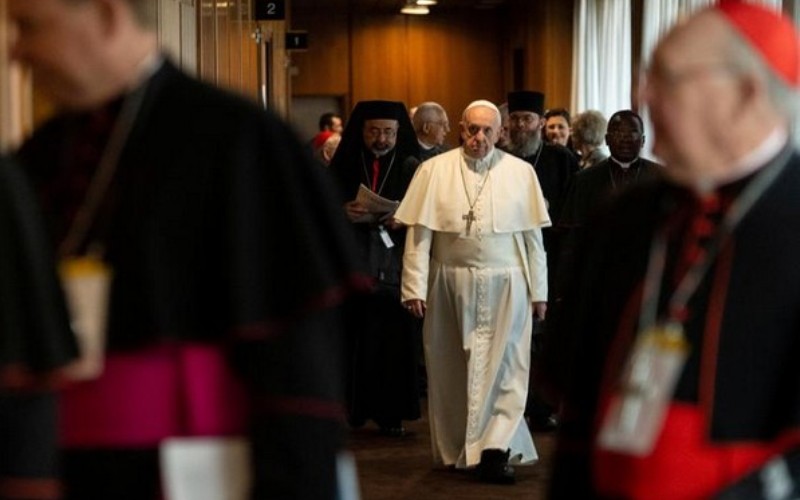 Vatican City: Ending the four-day summit on "The Protection of Minors in the Church" here, Pope Francis called clergymen who perpetrated sexual abuse as "tools of Satan," on Sunday (local time).
"Every abuse is an atrocity. In people's justified anger, the Church sees the reflection of the wrath of God. It is our duty to listen attentively to this silent cry," the Pope tweeted.
"Consecrated persons chosen by God to guide souls to salvation, let themselves be dominated by their human frailty or sickness and thus become tools of Satan," he added during his closing remarks on February 24.
"The brutality of this worldwide phenomenon becomes all the more grave and scandalous in the church, for it is utterly incompatible with (its) moral authority and ethical credibility," CNN further quoted the pontiff as saying.
He tried contextualising sexual abuse towards minors by labelling it as a "widespread phenomenon in all cultures and societies" historically while calling for an "all-out battle" against the sexual abuse of minors.
Survivors of clerical sexual abuse, however, expressed their disappointment in the outcome of the summit, adding that very few concrete proposals to stop the menace in churches had been put forth.
"I was very angry because I see just nice words over here, no concrete framework for
implementation," Virginia Saldanha, a member of the Ending Clergy Abuse group told CNN.
"He says a change of mentality is needed to combat a defensive and reactive approach. You mean all these years when survivors were pleading with the church, they didn't know it was wrong?" Saldanha, who is from India, added.
The Pope delivered his speech at the end of Mass at Sala Regia in the Apostolic Palace, where 190 Catholic leaders from around the world had congregated for the summit. The meeting came after shocking revelations about the sexual abuse of minors at the hands of clergymen rattled the world last year.
[source_without_link]ANI[/source_without_link]
Subscribe us on