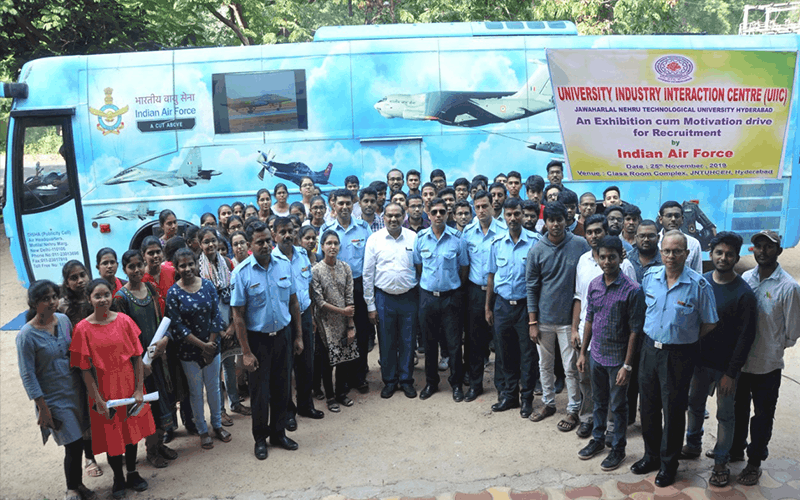 Hyderabad: As a part of Indian Air Force (IAF) Publicity programmes, an exhibition on the IAF was conducted at JB Institute of Eng & Tech, Bhaskar Nagar today. Highlight of the exhibition was an aircraft simulator installed in a high end volvo bus.
The event started with a motivational lecture delivered by Wing Commander Vishal Anil Kale, highlighting functioning of Indian Air Force, its role in national security and in providing aid to civil power in peace time. Various career options in the IAF were also covered in the lecture.
The 'Induction Publicity Exhibition Vehicle' installed with aircraft simulator and other gadgets drew attention and appreciation of young and vibrant aspirants. Mr. N Rajasekhar Reddy, Chief Administration Officer of JB Institute of Engineering & Technology, expressed gratitude to the IPEV team for their support and guidance to the students in career oriented awareness. The drive was conducted for the students of JNTU, Hyderabad yesterday.
Indian Air Force conducts Induction Publicity Programmes in different parts of the country through 'DISHA', Air Headquarters to spread career and induction related information. Towards this, IAF has developed an Induction Publicity Exhibition Vehicle (IPEV) in the year 2015 with a flight simulator, glasstron, aircraft models, display of flying clothing and other youth oriented gadgets aimed to showcase various facets of the IAF to aspirants and to provide guidance on career opportunities.
The objective of the drive is to reach out not only the metros, but the Tier-II cities, urban, semi-urban as well as rural areas of the country, where the awareness to join the forces is minimal. Since its induction, IPEV has conducted seven drives in the past covering East, West, Central and Southern parts of the country.
The current drive is planned to cover the state of Rajasthan, Gujarat, Maharashtra, Goa, Karnataka, Telangana, Andhra Pradesh and Madhya Pradesh.  The drive was flagged off from Delhi on 14 Oct 19.           
The drive is divided into two legs i.e. from Delhi to Pune and Pune to Delhi intending to cover 14 cities/locations as Nodal centre targeting approx. 33 institutes in a period of two months.
The drive is provide a great opportunity to interact with the students of reputed educational institutes and to enlighten them about career in IAF as a composite package with life full of professional challenge and a high degree of job satisfaction, where quality of life is unmatched in terms of its traditional ethos.
The drive is an effort by the IAF to benefit large cross section of capable and interested students, to be a part of the IAF, which is A Cut Above.
Subscribe us on