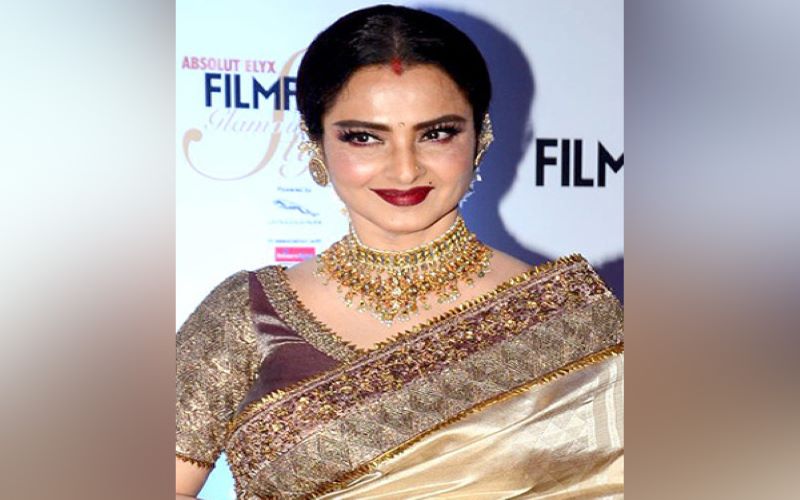 Hyderabad: Bollywood evergreen actress Rekha praised the industry icon Sridevi at the ANR National Award function in Hyderabad.
Rekha speaks in Telugu
According to the report published in Deccan Chronicle, Rekha who spoke in Telugu for more than 15 minutes said that she made her debut with Telugu movie when she was a year old.
It may be mentioned that Rekha had lent her voice to Sridevi for one of her movies.
During her address, Rekha said, "Nageswara Rao garu and Anjali aunty influenced my career".
The actress further said that during the early 80s, she got the offer from Rama Rao, Poornachadra Rao, Dasari Narayana Rao and K. Viswanath. She used to reside at Banjara Hills.
Recalling those days, the actress said that she to walk from Banjara Hills to Annapurna Studio.
She not only praised Sridevi but also referred her as a younger sister. The actress added that Sridevi had brought her here.
Actress Sridevi Kapoor arrives for the gala presentation of "English Vinglish" at the 37th Toronto International Film Festival, September 14, 2012. REUTERS/Mark Blinch (CANADA – Tags: ENTERTAINMENT)
Boney Kapoor
Meanwhile, Producer Boney Kapoor got teary-eyed while accepting the award on behalf of his late wife Sridevi.
"I am sure she (Sridevi) would have felt humbled. I accept this award on her behalf with with humility. Thank you," Boney said at an event here on Sunday.
Subscribe us on