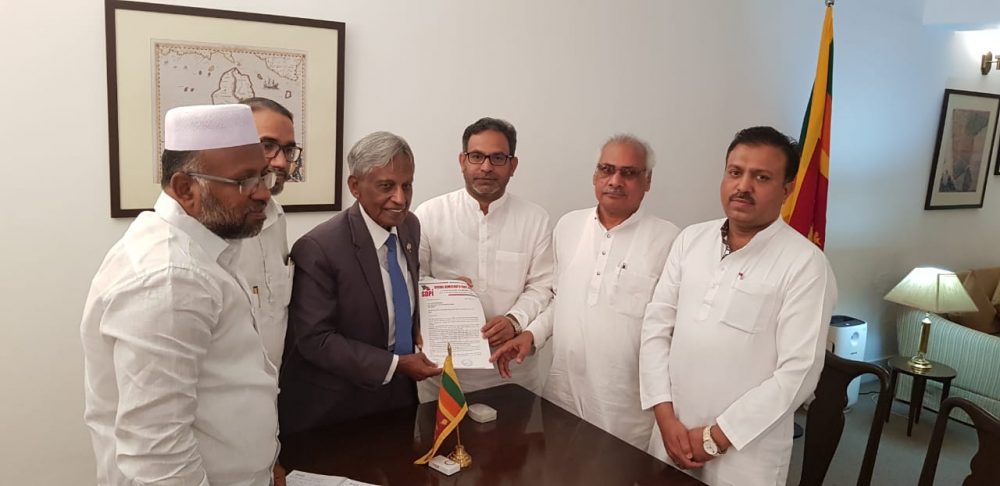 By Pervez Bari
New Delhi: The Social Democratic Party of India, (SDPI), submitted a memorandum to Mr. Austin Fernando, the High Commissioner of Sri Lanka to India, on Friday expressing grave concern over the ongoing anti-Muslim riots in Sri Lanka wherein despite a nationwide curfew imposed the violence has spread to three districts north of the capital Colombo.
A delegation of SDPI led by its national president M K Faizy called on Mr. Austin Fernando, the Sri Lankan High Commissioner, in New Delhi and submitted the memorandum. Others who were part of the delegation included National vice presidents Sharfuddin Ahmad & Dehlan Baqvi Sheikh Mohammad and national general secretaries Abdul Majeed KH & Mohammad Shafi.
High Commissioner Austin Fernando gave a patient hearing to the SDPI delegation assuring to forward their memorandum to the Sri Lanka Govt. highlighting their concern about Sri Lankan Muslims who are under siege following the break out of anti-Muslim riots in Sri Lanka.
The delegation pointed out that reportedly in the presence of Sri Lankan police and Army the rioters are indulging in brutal acts of violence on Muslims while the peace-enforcing agencies are looking the other way. The High Commissioner promised to convey the sentiments and concern of the delegation to the Sri Lankan Govt. about the Muslims who are at the receiving end.
It may be mentioned here that a Muslim was reportedly done to death in a violent backlash against Easter suicide bombings. Apart from these mosques and shops owned by Muslims were attacked and ransacked in Sri Lanka's Kurunegala district and other places.
The memorandum stated: "We denounce the present violent incidents and urge the Sri Lankan Govt. to hold the perpetrators of violence to account and ensure that the situation does not escalate. We also call on the security establishment to ensure that interventions, under the State of Emergency, are applied in a proportionate and non-discriminatory manner that will respect the rights of all communities and individuals while ensuring their security".
It further said: "It may be recalled here that we had vehemently condemned when militants attacked churches and hotels on April 21, 2019, the Easter Sunday, killing more than 250 people. The ISIS has claimed responsibility of the April 21 catastrophic attack".
The memorandum clarified:"……………..ISIS has nothing to do with Islam or Muslims all over the world. This has been adequately stated from time to time from many platforms that ISIS is not even remotely connected with Muslims and it is a conspiracy to defame Islam".
Subscribe us on