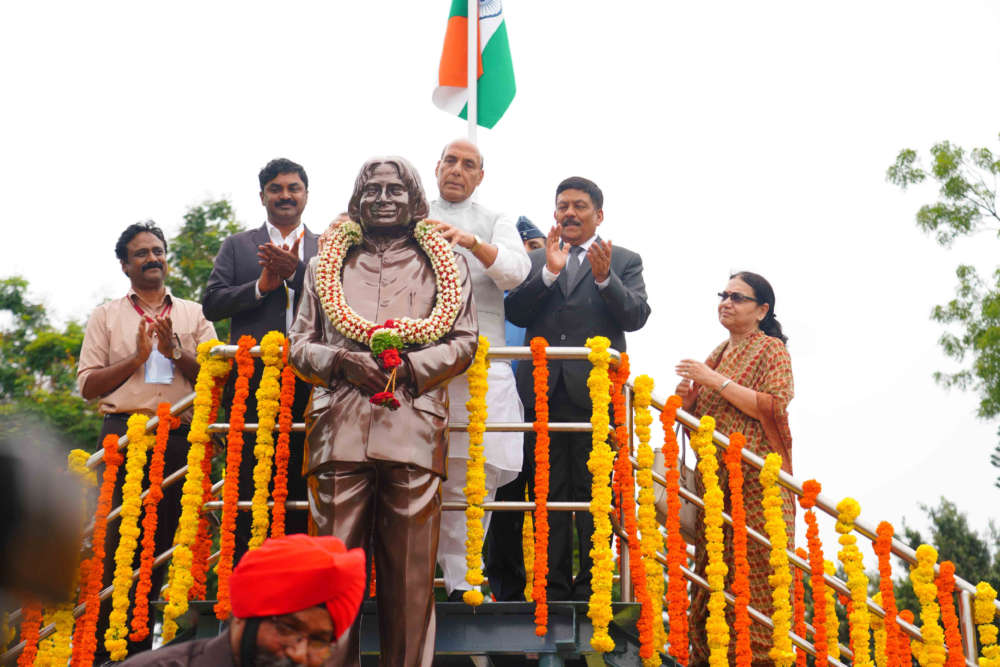 Hyderabad: Former President and India's Missile Man  APJ Abdul Kalam's statue was today unveiled by the Union Defence Minister Rajnath Singh at the Bharath Dynamics Limited as part of the Golden Jubilee Celebrations .
Bharath Dynamics Limited is the base for manufacturing Guided missiles and allied defence equipments to meet the requirements of the Indian Army . The Integrated Guided Missile Development program was the brain child of Dr APJ Abdul Kalam , launched by India during late 80's gave BCL plenty of opportunities to develop its skilled manpower and invest in high end technology areas to manufacture the missiles contemplated under the Integrated Guided Missile Development program.
Apart from producing Anti Tank Guided Missiles, Surface to Air Missiles, BDL produces counter measure dispensing system for the Fighter Aircrafts of Indian Air Force with their own R7d FACILITY , Similarly they have also made Decy system C 303 for Submarines with foreign technology BDL in association with NSTL-DRDO have produced Ligh Weight Torpedo-TAL totally made in India for the Navy and many other equipments.
Besides the Union Defence Minister Rajnath Singh the other dignatories present during the unveiling of the statue included Dr. Satheesh Reddy Secretary Defence r&d and Chairman DRDO, Mrs. Gargi Kaul Secretary Defence Finance, Vice Chief of Air Staff Air Marshal RKS Bhadauria, Dr. Amit Sahay Joint Secretary Department of Defence Production   Siddharth Mishra  CMD BDL
Siasat news
Subscribe us on