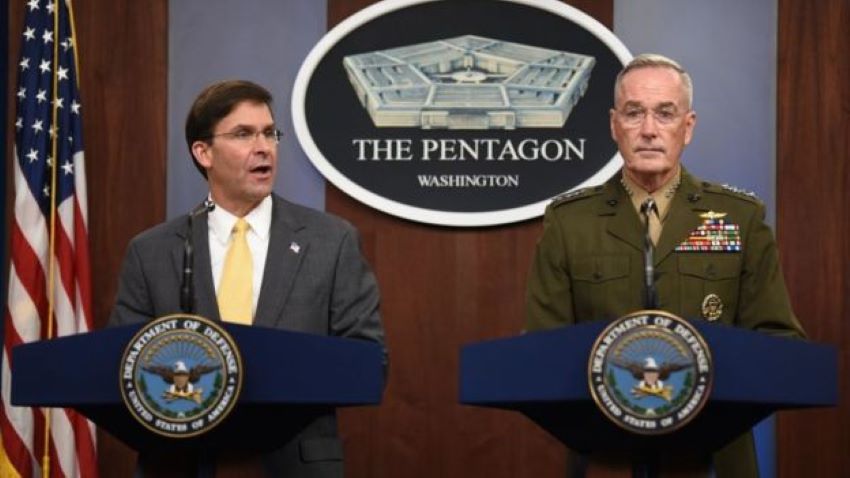 After two attacks were carried out against Saudi Arabia's oil infrastructure, the United States has announced to send its forces where the deployment would be of defensive in nature.
Secretary of Defence Mark Esper told the total number of troops have not yet been decided.
Yemen's Iran-backed Houthi rebels have claimed to have carried out the recent attacks on Saudi Arabia's two oil facilities.
Issuing new sanctions against Iran, US President Trump on Friday described the fresh sanctions as highest level which will focus on Iran's central bank and its sovereign wealth fund while also signaled he doesn't want military conflict.
"I think the strong person approach, and the thing that does show strength, would be showing a little bit of restraint," he told reporters in the Oval Office.
Meanwhile, the commander of Iran's Revolutionary Guard (IRGC) have said it would destroy any aggressor.
"Be careful," Maj-Gen Hossein Salami said on state television. "We are after punishment and we will continue until the full destruction of any aggressor."
Both Saudi Arabia and the United Arab Emirates had requested assistance said Mr Esper said.
Responding to the request, the depoyed US forces would focus on boosting air and missile defences and would "accelerate the delivery of military equipment" to both nations.
Chairman of Joint Chiefs of Staff Gen Joseph Dunford called the deployment "moderate" and said it would not number in the thousands
What happened in Saudi Arabia?
Airstrikes were carried out at Abqaiq oil facility and the Khurais oil field in Saudi Arabia a week ago, affecting the global oil supply.
The Saudi kingdom on Wednesday showed off what it said to be the remains of drones and cruise missiles proving Iranian involvement.
Subscribe us on