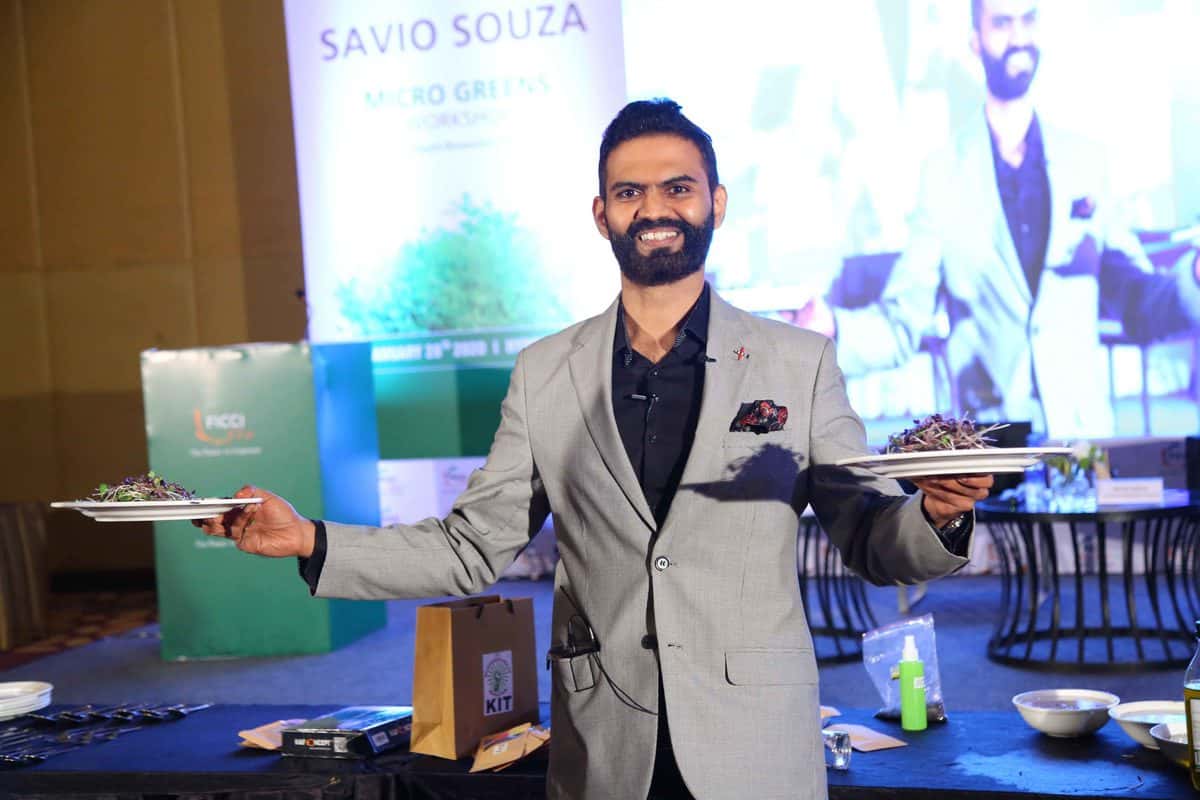 Hyderabad: The Micro Greens have become the latest trend of healthy living. In this light of the background, FICCI Ladies Organisation (FLO) and Young FICCI Ladies Organisation (YFLO) jointly organised a Workshop on Micro Greens. Here in the city on Tuesday.
The workshop is the need of the hour. This is Savio's first workshop in the city. The response is overwhelming. We have 200 plus participants registered, said Sona Chatwani in her welcome address.
The world is changing and is moving fast making the concept of 'green living is healthy living' a reality. We all know, that Green vegetables have a very good benefit on health and this has encouraged people to prefer on a green diet. This is the reason way we planned a workshop on this most important subject, said Shilpa Datla, Chairperson of YFLO.
Micro Greens are the seedlings of vegetables and herbs have many takers now as they have a lot of health benefits.
The workshop was conducted by Savio Souza from The Green Education Organisation (GEO) who spoke about the benefits of Micro Greens and the process of growing them at home. Savio promoted the concept of Micro Greens as the healthy intake in our daily meal to the 200 plus participants.
Some Micro Green varieties have 40 times more nutrition than grown vegetables, he shared.
Microgreens are known to contain about 40-50 percent more nutritional value than the full-grown plants.
 It started when we had a family tragedy. We woke up to the fact that certain food choices cause certain diseases. That is when we got into this. GEO was founded in 2013. We began with the Indian Council of Agriculture Research. It was a funded project. After that, we ran out with funds and started educating educators in schools. But, there was a lukewarm response.
Slowly and steadily we picked up. We have done over 1000 workshops in the last 7 years across the country. Every third customer on our online shop is from Hyderabad. Awareness from Micro Greens in Hyderabad is very good shared with the expert and specialist in Micro Greens, Savio. He prides himself in creating a mass movement for Micro Greens in India. The awareness for these is very high across India now, he shared
Savio who shuttles between Goa and Mumbai gave his participants a step by step practical approach to growing Micro-Greens at the workshop, that was designed to make growing and harvesting Micro Greens as simple as child's play.
These tiny plants are now kitchen pharmacies of many homes, Savio says.
Until now they used as a garnish for dishes in some restaurants. Now things have changed. Growing Micro Greens is the first step towards growing your kitchen garden he says. The fast turnaround time for the harvest to reach your table is the reason why many consider growing Micro-Greens at home. They are easy to grow. Even if you do not have the time and space for gardening, you can still easily grow Micro-Greens at home in varied climatic conditions in India
These little greens are basically micro varieties of fully mature plants. They made their appearance as a garnish in the early 80s. Later they caught up as the healthiest trend due to their nutritional value. Micro Greens in India, however, still have to become a part of our daily diet of many.
Micro Greens said to contain considerable levels of vitamins and carotenoids – about five times on an average – than their mature counterparts. Such soaring levels of nutrients help lower the risk of cancer, Alzheimer's, osteoporosis and boost heart health. 80% adolescents in India have a deficiency of micronutrients. These adolescents are deficient in iron, vitamin A, vitamin B12, vitamin D or zinc.
So growing  Micro Greens and being a kitchen pharmacist helps one to be healthy.
SIASAT NEWS
Subscribe us on