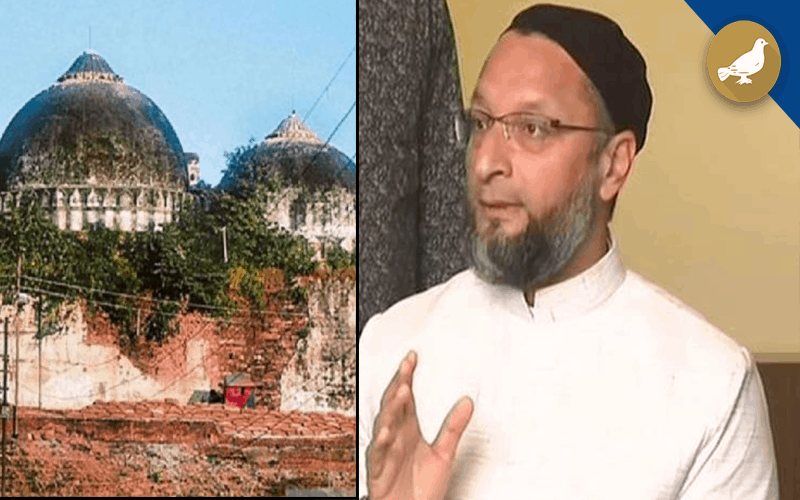 Hyderabad: Asaduddin Owaisi, Member of Parliament from Hyderabad and President of All India Majlis-e-Ittehadul Muslimeen, said at a press conference today that he was dissatisfied with the judgment of the Supreme Court over Babri Masjid dispute.
"This is a victory of faith over facts," he said with bitterness in his voice,
He also reiterated Justice J S Verma's words, "Supreme Court is Supreme but not infallible."
Earlier in a tweet, he had said, "I endorse the AIMPLB's stand on the judgment. Our fight was for justice and legal rights. We don't need five-acre land as a charity. There cannot be any compromise over a mosque."
The AIMPLB had tweeted: "The judgment is against our expectations. We presented solid evidence to prove our stance. Our legal committee will review the judgment. We have sincerely tried to fulfill our responsibility to restore the demolished Babri Masjid."
The Supreme Court's five-judge bench pronounced a unanimous judgement in 70-year-old Babri Masjid-Ram Janambhumi dispute earlier in the day today. The Supreme Court has ordered the Centre to set up a trust to build a temple, while allotting alternative five-acre land for constructing a mosque.
The mosque was demolished by a frenzied mob on December 6, 1992.
Owaisi told media persons, "We have full faith in the constitution. We were fighting for our legal rights. We don't need five-acre land as a donation…Don't patronize us."
The Supreme Court directed the Centre to give five-acre of suitable land to the Sunni Wakf Board and at the same time make necessary arrangements for the construction of the temple at the site by forming a trust.
Subscribe us on