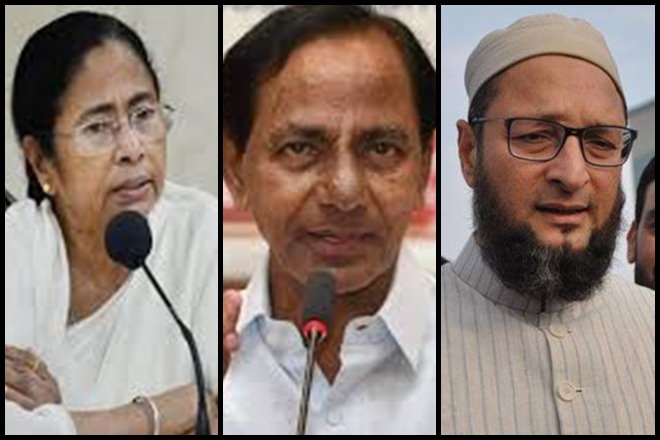 Hyderabad: Poll equations in India have taken a new twist. Let's not forget that KCR also 'controlled' the likes of Asaduddin Owaisi
By Abdul hafiz lakhani New Delhi
2019 year has set in festive mood all over the world. This is a very important year for India as Loksabha election will be held within some months of this new year. Political activities are already hotting up. Rahul vs Modi battle is on cards after recent three state election results.Congress has got oxygen after wins in three states, probable poll equations in India have taken a new twist.
Few months back it was expected that the opposition parties will fight under a regional leader and it won't be Congress.As the general election is approaching, now there are lots of speculations about the third front in Indian politics. But in the past, it has proved that the third front is not always successful in Indian Politics. They come as mirage showing hopes and disappear suddenly.
But the dominant victory of Congress against BJP in Madhya Pradesh, Rajasthan and Chhattisgarh have helped the Congress Party to shift gears. Thus there is a clear division among the opposition parties.A non-BJP, non-Congress alliance now depends on some iconic individuals of Indian politics. And it now appears that Telangana Rashtra Samithi (TRS) leader K Chandrashekar Rao is the fron trunner in this issue.
The emphatic victory of TRS in Telangana has proved one thing – KCR doesn't need BJP or Congress to win elections. Even the way he dominated over Chandra Babu Naidu's TDP deserves much praise.Let's not forget that he also 'controlled' the likes of Asaduddin Owaisi. His credibility as a leader is indeed not in doubt as well. He has already met the likes of Mamata Banerjee, Naveen Patnaik.
Although KCR is looking to meet Mayawati and Akhilesh Yadav in this regard, it will take time for UP bigshots to come to a consensus over fighting together. Anyhow, KCR is neglecting his state either.He has also met PM Narendra Modi and called for aid for backward areas. He requested for 16 items in his agenda and funding for 10 backward districts. Apart from that, he also called for a separate High Court for Telangana, KV in New districts and an IIT in Karimnagar district.
Since the formation of the new state, KCR has been the unassailable leader of Telangana with huge public support. Previously, some opposition parties have suggested that TRS has been passively supporting the ruling Narendra Modi government but KCR has proved why his idea can indeed be fruitful.
There is no denying the fact that KCR is actually hurting the political ambitions of both BJP and Congress. Thus in the next few months, it would be interesting to see how do the Third Front really shapes up. It won't be a surprising development if KCR becomes the prime ministerial candidate for the Third Front.
Since politics is radically divided into two ideologies- the left and the right but the third front have little space for any ideology. As a result, they always prove as a brunch of people assembles to come into power.
Most of the regional parties in India are formed to address specific issues of their areas, not on a strong belief. They have to depend on the voters on these issues.After the rise of BJP in 2014 the Congress has lost its voter base and no regional party sees Congress as a strong party to reckon.Now if they want to join in a third front they want to be treated as an equal in the alliance.
Again what Congress did not do in last fifty years BJP started to address those issues, as a result, these regional parties have almost become an issueless party.BJP started to address the issues of regional parties. So people see no reason to defeat BJP and also BJP has been in power for five years which is not enough to term them as a failure party.
Again it will be very tough for the third front to convince why they should bid adieu to BJP and people are not going to believe in such a group.
After meeting Patnaik KCR said that the dialogue for a new front has started and they are making efforts to bring like-minded parties in one platform and they will meet again to in the days to come.
Though KCR further said that a conglomerate of regional parties would merge to challenge Congress and Bharatiya Janata Party (BJP), how long they will last is the main question that people should be informed. But regional parties can play an important role if both Congress and BJP fail to get an absolute majority in the election. (Mr. Abdul hafiz lakhani is the EDITOR of GUJARAT SIYASAT and www.siyasat.net. he can be reached at abdulhafizlakhani@gmail.com)
[source_with_link url="http://siyasat.net/2019/01/01/big-question-for-2019will-kcrs-third-front-ambition-see-light-of-the-day/"]Siyasat[/source_with_link]
Subscribe us on