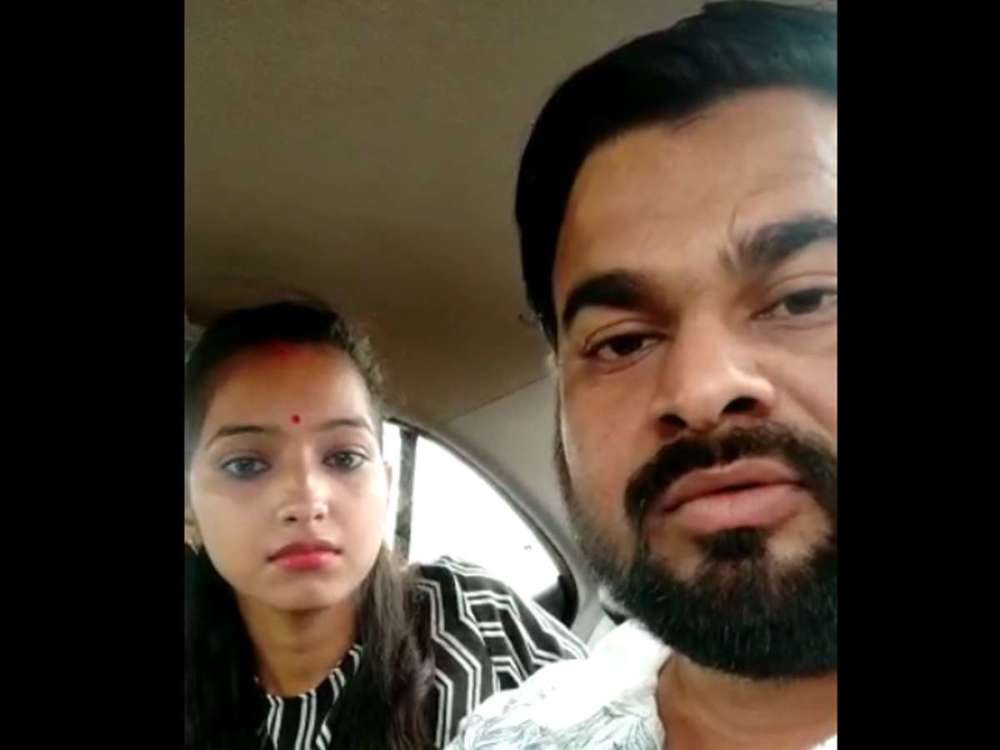 Bareilly: A video of daughter of an Uttar Pradesh BJP legislator asking the police for security claiming threat to life from her father after she married a Dalit man is doing round on social media.
Sakshi Misra (23), who is the daughter of Rajesh Misra, the MLA from Bithari Chainpur in Bareilly district on Wednesday uploaded videos on social media announcing her marriage to the man of her choice, Ajitesh Kumar (29), reported a leading news ahency.
In one of the videos that was shot inside a car at an unknown destination, Sakshi requested her father, brother to live and let them live happily and also warned an associate of putting him behind bars if anything happens to her or her husband.
She had said ,"Papa – Pappu Bhartaulji — and my brother Vicky, I request you to live with peace and let us live with peace. I am not wearing 'sindoor' just out of fashion but I have actually married Abhi. And Papa, stop your man Rajiv Rana, who is chasing us. Make him understand not to test my tolerance otherwise he would be in jail for sure. Due to your people, our life has turned into hell."
She further added, "It's I and Abhi who decided to live together and nobody is responsible for the step we have taken. You enjoy your politics and let me enjoy my life peacefully."
BJP MLA from Bareilly, Rajesh Kumar Mishra alias Pappu Bhartaul's daughter has married a man of her choice. The BJP MLA is now after their life, has sent goons. His daughter has released this video requesting help! @Uppolice

Source: @saurabh3vedi

— Gaurav Pandhi (@GauravPandhi) July 10, 2019
In a video addressed to Bareilly police chief, Sakshi have urged him to provide security.
"I am Sakshi and this is my husband Abhi. We are frustrated after running from one place to another. Now, I want to request the SSP to provide us security." In the same video, Kumar says: "We were staying in a hotel where some people, who wanted to kill us, arrived. But luckily we had managed to escape from there. The only reason they want to kill us is because I am a Dalit."
Subscribe us on