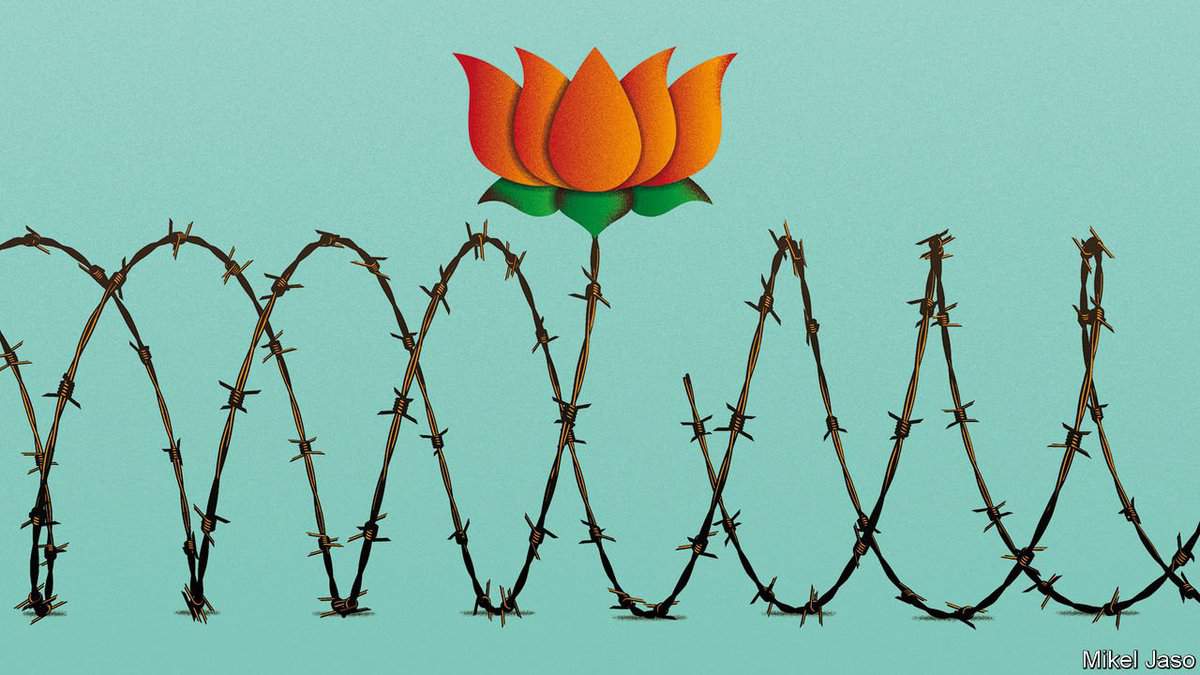 Hyderabad: The Economist, an English-language weekly magazine which is published from London and is read by the corporate world around the globe, has dedicated its latest cover page to India's burning issues, CAA and NRC. The cover page, which The Economist has posted on Twitter, has the image of a Lotus blooming out of thorny iron wire and the magazine has titled the page as "Intolerant India".
The Economist in its tweet has given the link of the article with the description "How India's prime minister and his party are endangering the world's biggest democracy."
The article, titled "Narendra Modi stokes divisions in the world's biggest democracy", criticises the Narendra Modi government over the new citizenship law CAA and the National Register of Citizens (NRC), claiming that it "imperils the inspiring idea of India as the world's largest democracy".
It also observes that India's 200 million Muslims are living under fear as the Prime Minister tries to build a Hindu state.
India's 200 million Muslims are living under fear as the Prime Minister tries to build a Hindu state.
The article notes "many of the country's 200m Muslims do not have the papers to prove they are Indian, so they risk being made stateless. Ominously, the government has ordered the building of camps to detain those caught in the net."
Highlighting the protests being held in India, The Economist writes: "Students, secularists, even the largely fawning media have begun to speak out against Narendra Modi, the prime minister, for his apparent determination to transform India from a tolerant, multi-religious place into a chauvinist Hindu state."
Expressing concern the article maintains: "The plan to compile a register of genuine Indians as part of a hunt for foreign interlopers affects all 1.3bn people in the country. It could drag on for years, inflaming passions over and over again, as the list is compiled, challenged and revised."
It further notes these issues "also distract attention from awkward topics such as the economy, which has struggled since the BJP's thumping election victory last year."
It must be recalled that Economist Intelligence Unit, a sister concern of The Economist ranked India 10 places lower in the Democracy Index earlier this week.
The CAA ensures fast-track citizenship to non-Muslim minorities from Muslim-majority countries like Pakistan, Bangladesh and Afghanistan if the entered India before 2015.
Subscribe us on