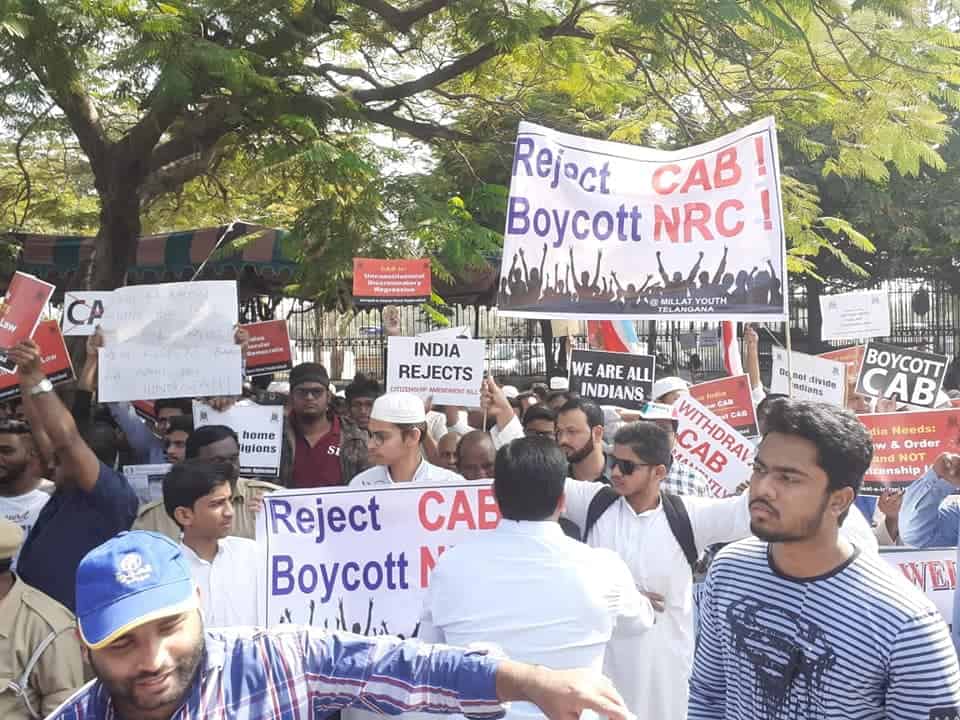 Hyderabad: A protest meeting was organized at Dharna chowk, Indira park yesterday against citizens' Amendment Bill (CAB). A large number of persons attended the protest meeting.
Addressing the gathering, Ameer of Jamat-e-Islami of Telangana, Mr. Hamid Mohammed Khan told that CAB is a scar on the forehead of this country. Govt. of India is implementing the policy of usurping the fundamental rights of the Muslims under an organized conspiracy in the guise of this bill. Govt. wants to enact NRC which the people of India will not accept.
He also said that this line of thinking is like cancer for the Muslims, Dalits, Tribals and the Backward Classes. Through this bill, Indian society is being divided on the basis of religion.
Mr. Khan further told that the constitution of India is based on secular principles and CAB is against the spirit of the constitution. This bill was formulated on the basis of religion.
Through this enactment, Govt., BJP and RSS want to implement 'Hindutva'agenda. The secular fabric of the country is being tarnished. It is therefore, the duty of every citizen to oppose it.
He mentioned that the Muslims of India will not accept it at any cost. Govt. should understand the way people are agitating against CAB. If it does not sense the pulse of the people, the Govt. will be dethrowned.
He termed the 'Dark Day' on which this act was enacted.
Constitution of India does not provide citizenship on the basis of religion. '
Mr. Khan appreciated that TRS and MIM opposed this bill. He demanded the CM of TS to get a resolution passed in the state Assembly saying that CAB and NRC will not be implemented in the state.
Addressing the gathering, Prof. Kodandaram President of Telangana Jana Samiti told that India is a secular country and it will remain so forever. He termed CAB against the spirit of Indian Society. He desired that Central Govt. to refrain from implementing this act.
Mr. Amjadullah Khan Khalid, leader of MBT told that CAB is a step towards 'Hindutva'. Govt. of India wants to implement NRC later and then it will take initiative to implement Uniform Civil Code. In order to foil the evil designs of the Govt, Mr. Amjadullah Khan Khalid suggested the method of peaceful agitation.
Maulana Naseeruddin, President of Wahdat-e-Islami organization told that it is imperative for the people to protest against this law.
CPI leader and former Rajya Sabha M.P., Mr. Syed Aziz Pasha, Maulana Jafar Pasha, Vindhya Rani, Syed Taqi Raza Abedi, Mr. Mohammed Mushtaq Malik, President of Muslim Shibban, Mr. Iqbal Ahmed Engineer, Mr. Ziauddin Nayyar, Mr. Abid Rasool Khan, Prof. Ramesh Reddy, Mr. Muneeruddin Mujahid and others also addressed the gathering.
Subscribe us on