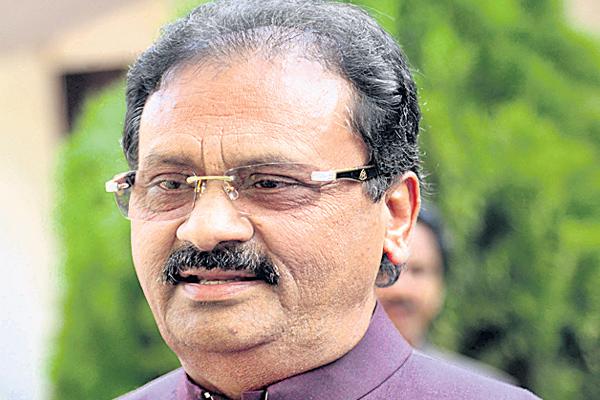 Hyderabad: Former Leader of Opposition in Legislative Council and Congress senior leader Mohammed Ali Shabbir has strongly condemned the BJP Government at the Centre for not allocating adequate funds for Telangana State in the Union Budget.
Shabbir Ali, in a media statement on Saturday, alleged that the BJP Government has adopted a policy of neglect and discrimination towards Telangana State. "There is nothing in the union budget that connects Telangana with the biggest fiscal activity of Central Government. No funds have been allocated for any project or scheme being implemented by the State Government although it was claimed that NITI Aayog had recommended funds for Kaleshwaram Project and Mission Bhagiratha.
"Telangana's share in total transfers to the States by the Centre is too meagre. It will only get Rs. 19,179 Crore in 2019-20 as compared to the revised of Rs. 18,561 crore in 2018-19. The increase of Rs. 1,157 crore in tax devolution is not only marginal but highly inadequate. Similarly, he said the reduction in funds for Central schemes like MGNREGA and PM Awas Yojana will have a negative impact on Telangana," Shabbir Ali said.
Ali alleged that neither the BJP Government at the Centre had clarity on the needs of Telangana nor TRS Govt in the State presented a proper wish list to the Centre. "Both BJP and TRS are election-centric parties and not people-centric. Prime Minister Narender Modi and CM K. Chandrashekhar Rao spend more time on targeting opposition parties than combating issues concerning common man. Both are equally responsible for neglecting Telangana," he said.
The Congress leader alleged that Telangana has remained neglected under BJP rule since 2014. "KCR maintained a close friendship with PM Modi in the first term. He supported all decisions of Modi including demonetization and GST. But he failed to get anything in return for Telangana. This time, KCR had no time to visit Delhi to make proper representations to concerned ministries seeking funds for various schemes and projects. His wrong claims of Telangana being the richest State has proved costly for the State," he alleged.
He demanded that the Chief Minister explain how he plans to meet the financial needs of Telangana in the absence of adequate assistance from the Centre. He said that the Chief Minister should come out with a White Paper on Centre's funding to Telangana since 2014 and also on State's actual financial position.
Ali also slammed the BJP Government for not increasing the allocation for minorities welfare in Union Budget which remained static at Rs. 4,700 Crore as the previous financial year 2018-19. The allocation was Rs. 4,195 crore in 2017-18 and Rs. 3,800 crore in 2016-17. "PM Modi talks of 'Sabka Saath, Sabka Vikas, Sabka Vishwas'. But he is not willing to allocate sufficient funds for the development of minorities. Can India achieve growth with the second largest community in the country facing total neglect in the budget?" he asked
[source_without_link]NSS[/source_without_link]
Subscribe us on