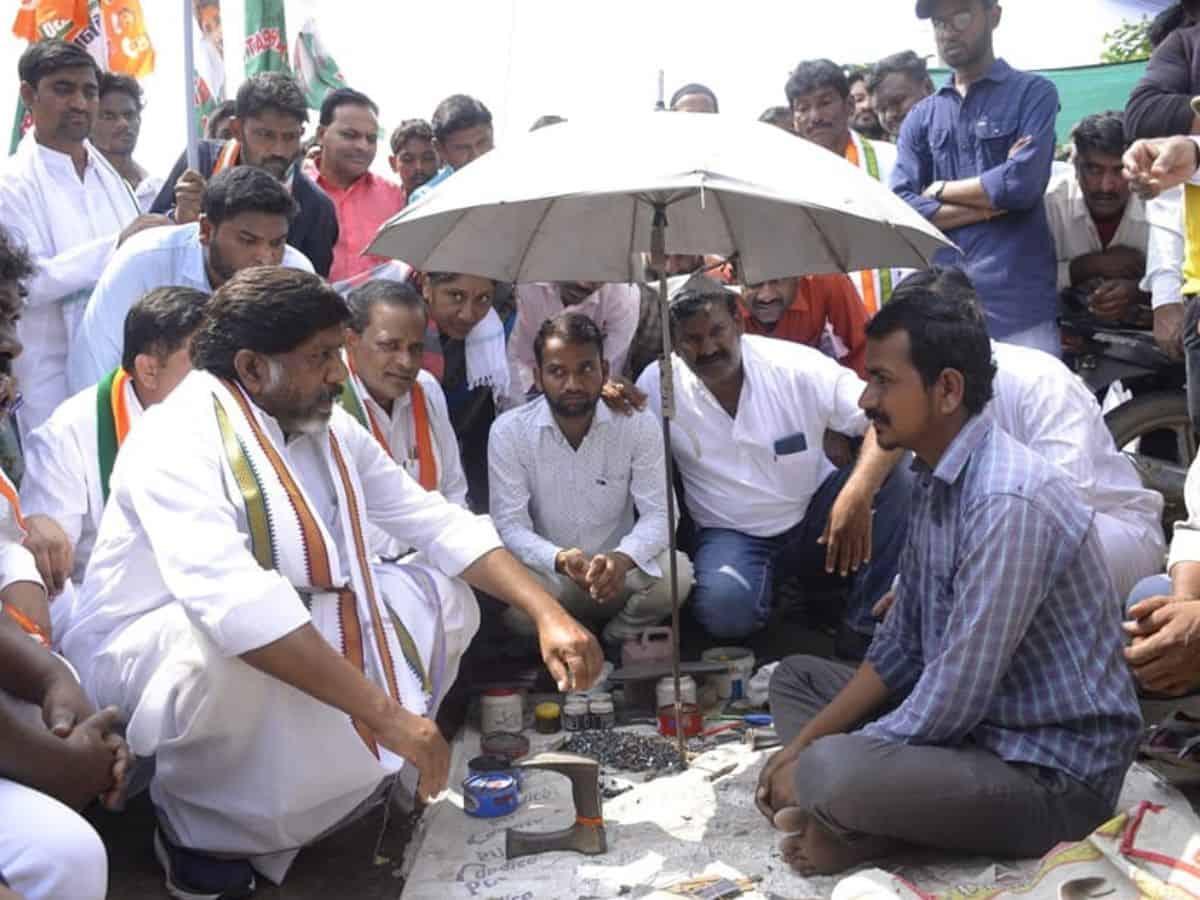 Hyderabad: Telangana Congress party leader Bhatti Vikramarka on Friday said that there is corruption at all levels, from clerks to chief minister K Chandrashekhar RAO, and stated that financial mismanagement had pushed Telangana into a debt trap.
During the 'Haath Se Haath Jodo' padayatra at Ichoda, Adilabad, Bhatti Vikramarka said that Telangana had become a hub of scams and corruption and that many scandals were going unreported.
Bhatti said that the congress padayatra was getting an overwhelming response across Telangana, a clear indication that people were vexed with the regimes of the Modi government at the Centre and the KCR government in Telangana.
He claimed that the BRS government had failed to address the needs of any section of society, especially Dalits, Tribals, BCs, and minorities, who constitute nearly 86% of the total population.
On budget and debts:
Bhatti said, "More than Rs 5 lakh crores of loans were borrowed by the Bharat Rashtra Samithi (BRS) Government on high-interest rates, and there is no clarity on how, why, and where the money was spent".
He accused BRS of deceiving the common people by weaving a web of lies. He said that the BRS government had presented 10 budgets in the last nine years of a cumulative size of Rs 23.35 lakh crores.
"However, in reality, only Rs 18 lakh crore had been spent, while the remaining Rs 7.5 lakh crore was overstated. Out of the actual spending, more than Rs 5 crores were borrowed from various banks and financial institutions," he added.
"These figures clearly show that the actual revenues of the Telangana Govt were only Rs 13 lakh crore, and a major chunk came from the sale of liquor. There was no transparency or clarity on where the Rs 18 lakh crore was spent," he said.
Bhatti Vikramarka criticised the government for not fulfilling any of its major promises and stated that today, the State's exchequer was almost empty.
The Congress leader said that the budget figures were manipulated by tampering and inflating revenue and expenditure figures. "K Chandrashekhar Rao's mismanagement had pushed the people of Telangana and their future generations into a huge debt trap, " he said.
On Unemployment:
Bhatti accused the BRS government of not doing enough to tackle the rising unemployment rate in Telangana, with over 2 lakh vacancies still remaining unfilled in various state government departments.
He said, "Over 40 lakh youth are still jobless, with the government not providing jobs or the promised Unemployment Allowance of Rs 3016 per month".
Tribal welfare:
Bhatti accused the BRS government of completely neglecting the welfare of tribal people during the past nine years. "The Integrated Tribal Development Agency (ITDA) has become almost dysfunctional due to lack of proper funding. None of the schemes that were previously implemented by the previous Congress government through ITDA to provide housing, agriculture support, etc., are now operational," he added.
He said that at the Madapur hamlet, up to four families with children were living in 100 yards of temporary houses made of wood. "It is painful to see that poor Girijans do not have proper housing even nine years after the formation of Telangana State," Bhatti added.
On Podu lands:
The Congress leader said, "chief minister KCR announced on the floor of the Assembly that podu land pattas would be distributed to eligible tribals by the end of February. He said more than 66,000 applications seeking rights over forest lands measuring 2.27 lakh acres in the composite Adilabad district alone.
"However, nothing has been done to honour the promise. KCR also forgot the promise of implementing Girijan Bandhu on the lines of Dalit Bandhu," he added.
Farmer's issues:
He said that the farmers did not receive adequate input subsidies, proper support prices for their produce, or any compensation for crop loss due to natural calamities and other reasons.
Congress leader Bhatti said, "Rythu Bandhu program, which provides farmers with a financial grant of Rs 5000 per acre for cultivation, is just hype and insufficient for farmers to cover the rising input costs due to the increasing prices of seeds, fertilizers, labour, and transportation".
He accused KCR and said that the government failed to waive crop loans up to Rs 1 lakh, leaving a majority of farmers in huge bad debts.
"The banks are not issuing fresh loans, forcing farmers to depend on private financiers to borrow money at high-interest rates. Not a single farmer who had lost their crop due to floods, heavy rains, or drought had received any compensation from the Centre or the State government," alleged Bhatti.
Subscribe us on