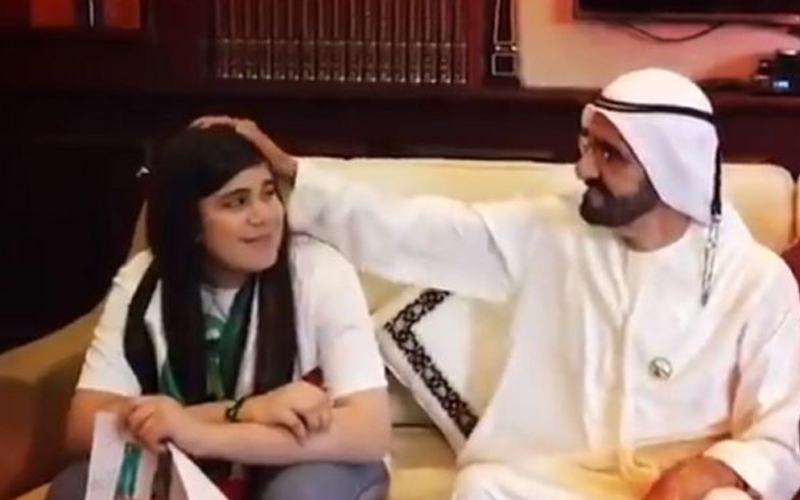 DUBAI: His Highness Sheikh Mohammed bin Rashid Al Maktoum, Vice-President and Prime Minister of the UAE and Ruler of Dubai, surprised a young Iraqi national who went ecstatic over UAE football team's win during the AFC Asian Cup.
In a video shared by the Dubai Media Office, the young girl, Sarah Abdul Al Rahman Khashman, who was supporting the UAE national team is seen kissing the country's flag she held and wept with joy over the win. Her fervent support for the team and emotional celebrations were caught live on TV.
In a crucial quarter-final match, the United Arab Emirates beat reigning champs Australia.
[also_read url="https://www.siasat.com/news/after-saudization-emiratisation-jobs-threat-indian-expatriates-1454963/"]After 'Saudization, Emiratisation of jobs' is a threat for Indian expatriates[/also_read]
Sheikh Mohammed surprised Sarah, "who stood with all love behind our national team", said the Dubai Government Media Office. During their meeting, the Dubai Ruler commended Sarah's gesture of kissing and told the young girl that "This country is your country too." He also gave her a signed copy of his latest book, Qissati.
محمد بن راشد يفاجئ الطفلة العراقية سارة عبدالرحمن خشمان، التي وقفت بكل حب خلف منتخبنا الوطني، حيث قام سموه بلقائها وإهدائها نسخة موقعة من أحدث كتبه. #الإمارات #دبي pic.twitter.com/TMeWflMaiU

— Dubai Media Office (@DXBMediaOffice) January 26, 2019
Subscribe us on