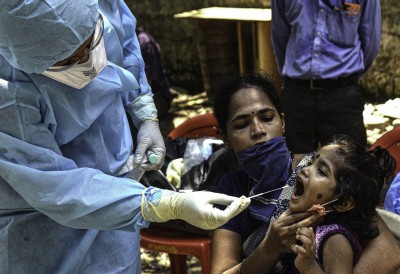 Agra, Sep 18 : With 118 fresh cases and 117 deaths till now, the Covid-19 scene in Agra remains grim. Health officials said the rising graph of infection was a matter for worry, though all required measures were being taken to control the spread.
Agra's total tally now stands at 4,495, and of this 3,529 have recovered. The number of active cases is 850, including those in home isolation. The total number of samples tested so far is 1,59,806. A medical college doctor and three health workers, around half a dozen municipal corporation officials, several lawyers in Sadar Tehsil, and the Agra Civil Court were among the new cases.
Mathura reported three deaths and 116 fresh cases, while Firozabad had 47 cases, Mainpuri 45, Etah 21, Kasganj 12.
Health officials said the senior citizens were proving a major vulnerable group now. However, the death rate so far has been in check due to better treatment facilities and timely intervention.
Among the ten top cities of Uttar Pradesh, Agra was tenth in terms of deaths from Covid-19.
While Lucknow has reported 554, Kanpur 550, Agra has so far reported 117. The health officials give credit to the Agra Model following a multi-pronged strategy that includes contact surveillance, health survey camps, a wide range of drugs, continuous upgrading of medical support technology, and more importantly spike in testing rate.
Meanwhile, the ASI is giving final touches to arrangements ahead of the reopening of the Taj Mahal and the Agra Fort from September 21. All visitors will need to register their names and addresses before entry. Body temperature will also be recorded. Only 5,000 visitors would be permitted in two shifts of 2,500 each.
Disclaimer: This story is auto-generated from IANS service.
Subscribe us on