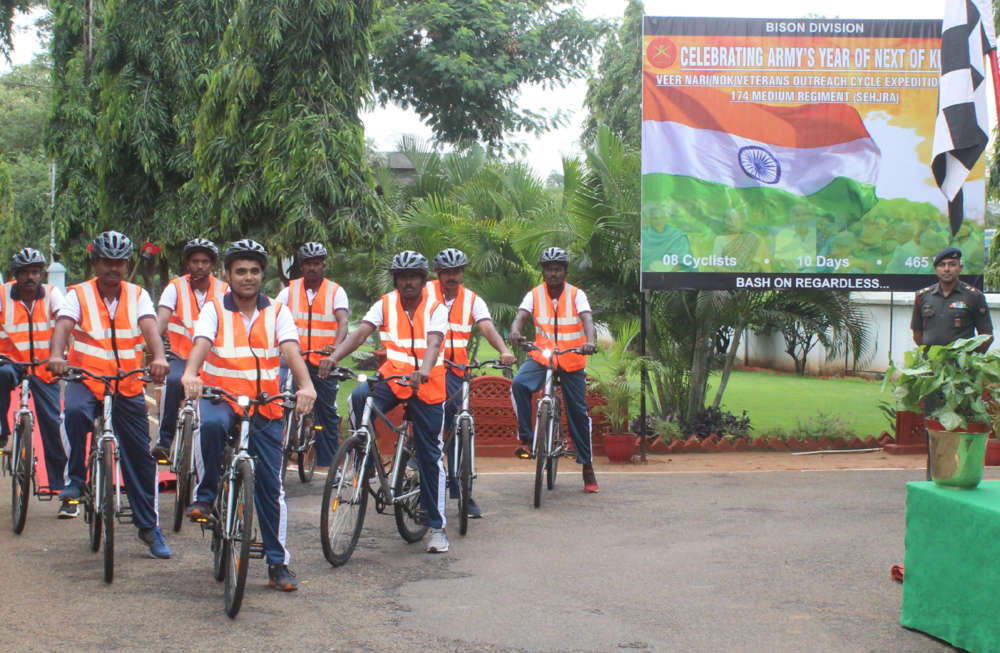 Hyderabad: The Indian Army is commemorating this year as the 'Year of Next of Kin' and plans to reach out to the next of kin of battle casualties and physical casualties to inform them of entitled financial benefits, welfare schemes and help in resolving their pension related problems.
Incorrect and incomplete documentation is common and causes severe hardships to the next of kins of deceased soldiers. The cycle expedition members will not only reach out to such families but will help them in correcting and sending the correct complete documentation in these remote foothill villages.
Earlier this year in the month of March, a team from 'Sehjra Gunners' interacted with the Zila Sainik / Sainik Welfare Officers of Vellore, Tiruvannamalai and Krishnagiri districts in Tamil Nadu as part of Internal Security recce. During the interaction, the district authorities apprised the recce teams that Ex-Servicemen located in remote/foothill areas of their district are not able to accrue benefits from various outreach initiatives launched by Indian Army. The remoteness of the area coupled with the old age of individuals precludes the Veterans (Ex-Servicemen/Veer Naris/Next of Kin) located in such areas to communicate their grievances to the authority, therefore, their grievances remain unaddressed.
In view of the same, a team comprising of one Officer, one Junior Commissioned Officer and six Other Ranks of 'Sehjra Gunners'of Bison Division embarked on a 9-day cycle expedition as part of an adventure activity from 30 July to 07 August 2019 covering a distance of approx 465 Km to reach out to next of kins settled in the remote foothill villages of three districts of Tamil Nadu namely Vellore, Tiruvannamalai and Krishnagiri. The Cycle Expedition was flagged-off by General Officer Commanding, Bison Division today at Secunderabad.
Siasat News
Subscribe us on