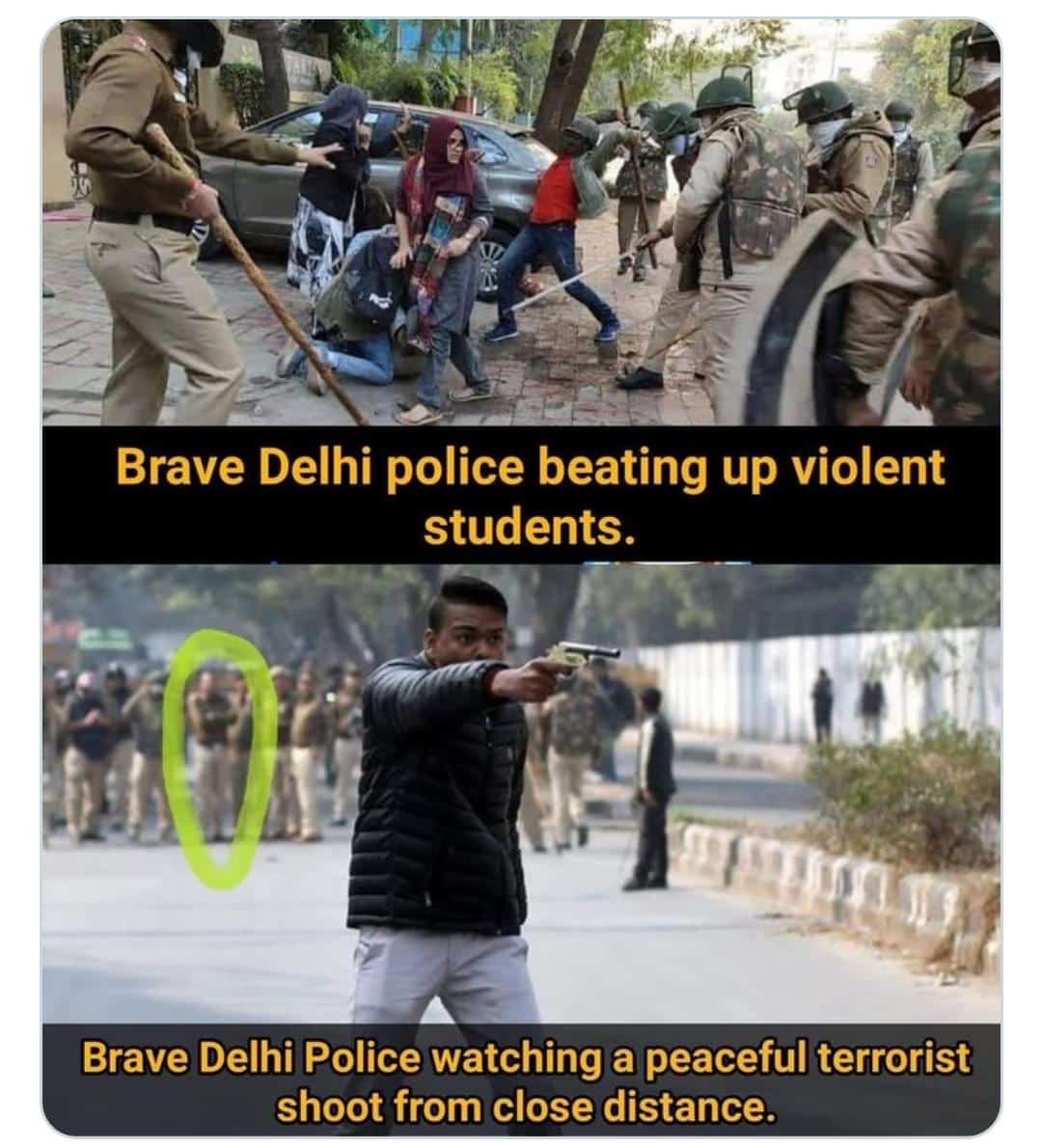 New Delhi: As the state elections are around the corner, Delhi Police's bias is becoming palpable.
The Delhi Police directly take orders from the Home Ministry which is headed by Amit Shah. It is clear that the police have been preventing peaceful protestors from exercising their right but letting lose those who shout provocative slogans, vandalise, indulge in hooliganism and even shoot at the students. It seems that peaceful protests and rallies are more serious crimes for the Delhi Police than beating unarmed people with batons and iron rods. They sometimes even resort to firing at the unarmed and peaceful protesters.
The contrast in tackling pro-CAA-NRC-NPR and anti-CAA-NRC-NPR demonstrations shows police bias.
Armed Vs Unarmed
The nation is observing the anniversary of Mahatma Gandhi's assassination by Hindu supremacist Nathuram Godse on January 30. A juvenile enters Jamia area with pistol in his hand. He keeps waving the firearm in the air while the heavily deployed police force stands by and watches his performance as mute spectators. The youth shoots at barricaded students saying, 'Ye Lo Azaadi.' Undisturbed he later walks towards Delhi police. Media persons are also seen shooting the scene as if it is the climax of an action movie. According to a report, he chants "Delhi Police Zindabad" as he is bundled into a police car. The police do not file any FIR against the culprit for several hours.
Two girls and a young man who were peacefully protesting against CAA at the campus run for safety inside a house after police crackdown against the protestors on December 15. A police contingent in riot gear, armed with batons and guns, begin chasing the unarmed demonstrators. They drag the young man and start beating him mercilessly with sticks. Female Jamia students try to block the physical attacks of officers with lathis.
Masked goons Vs Peaceful protestors
Masked goons go on the rampage on January 5 in the campus of Delhi's prestigious Jawaharlal Nehru University, leaving several people injured. They attack students and faculty members on campus, pelt stones causing forehead injury to JNUSU president Aishe Gosh who begins bleeding profusely. The Delhi Police remains inactive letting the goons going on rampage and facilitating the assailants a safe passage. There has been no arrest in the JNU incident so far.
Delhi Police forcibly enter Jamia Millia Islamia University campus December 15, assaults several students after a mob of unidentified people set a few public buses on fire nearby. Police lob tear gas inside the university reading room, inflict brutal and grievous physical injuries on the students who were peacefully studying inside the reading room of the library and were not even part of the anti-CAA agitations outside. A severe and inhuman beating leads to the fracture of hands, legs and one student loses his eyesight because of a direct hit on the left eye by (police) lathi.
Provocative Vs Protest sloganeering
Bhim Army chief Chandrashekhar Azad arrives at Jama masjid. Before he could start leading a march towards Jantar Mantar in protest against CAA, he is arrested by the Delhi police on December 21.
BJP leader and union minister Anurag Thakur at an election rally in Delhi on January 27, shouts "desh ke gaddaron ko to which the crowd responds 'goli maro s**lon ko'. He repeats the slogan many times. No action is taken against him.
With such a biased approach of Delhi police towards law and order situation, all eyes are now on the Election Commission to ensure fair and violence-free polls in the national capital.
Subscribe us on