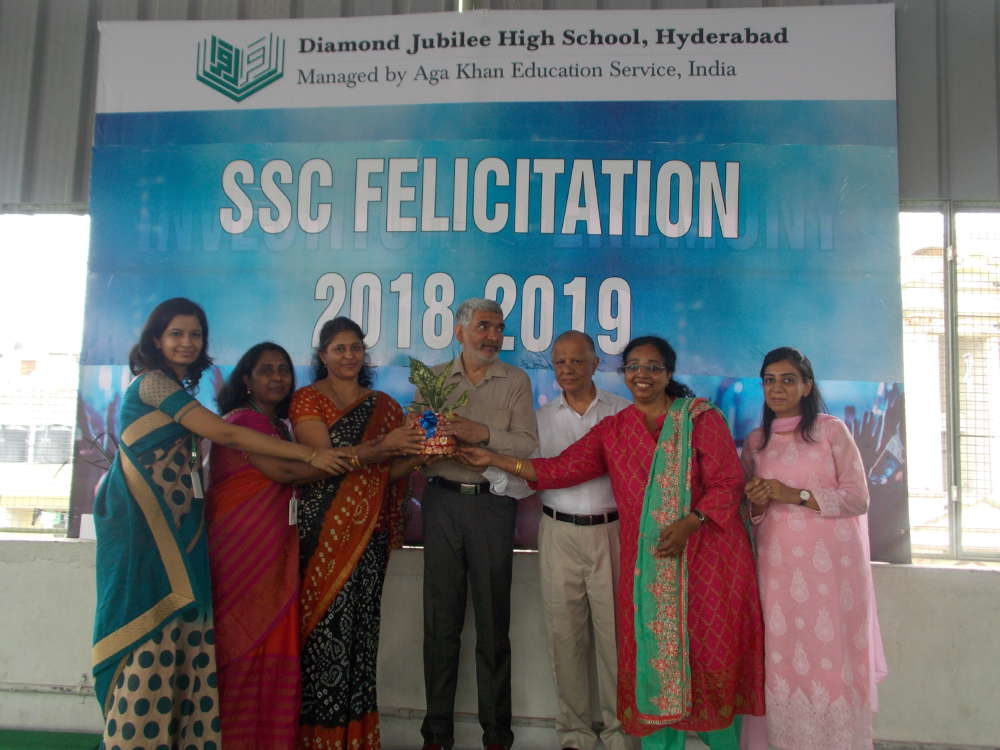 Abids, Hyderabad: Diamond Jubilee High School, Chiragali Lane, Abids Hyderabad felicitated the students of SSC 2018-19 batch for their outstanding performance in SSC board examinations. Like the past two consecutive years, school forged ahead with 100 percent pass percentage and 100 percent first class. Master Kavach Agarwal secured 10/10, overall 92% of the student's secured distinction, 20 students scored 90% and above with the highest GPA 10.
Mr. Zaheeruddin Khan, Managing Director, Siasath Daily was the chief guest who graced the occasion. He congratulated the students, parents and the school team for the school's consistency in achieving academic excellence. He advised students to explore more opportunities for planning their further academic pursuits rather than sticking to conventional options. Dr. Sujatha Gade, Principal of the school said that the school not only emerged as the topper in SSC results but also the topper in other co-curricular and extracurricular activities were in school bagged many prizes in inter-school competitions held this year.
The guest of honor Mr. Salim Ajani, Alumni and Proprietor of Metro footwear and Ms. Aliya Parveen, Head of Agakhan Hostel appreciated the sincere effort of the team of teachers and cooperation extended by the parents to give successful credit to the students.
Sujatha Gade| Principal | Diamond Jubilee High School, Hyderabad |
Aga Khan Education Service, India |
Tel +91 040 23201389 | +91 040 66821389 |
Visit our website: www.agakhanschools.org/india
Subscribe us on