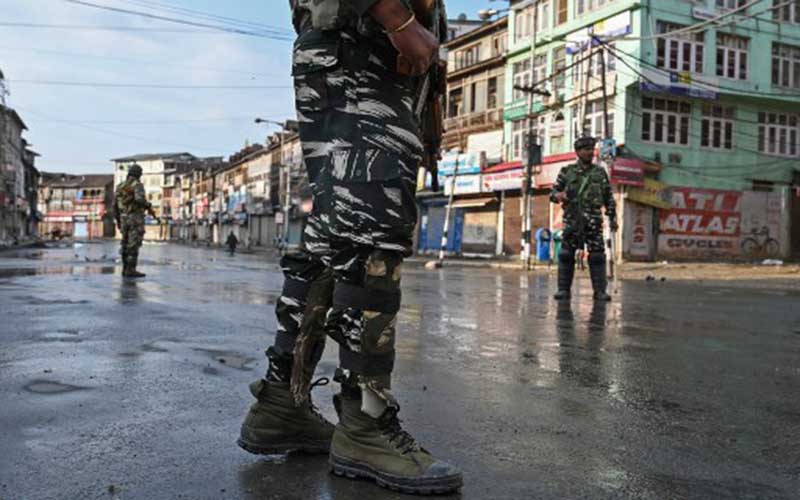 Srinagar: Pakistan's foreign minister Shah Mahmood Qureshi must be kicking himself for uttering those lethal words at such a hyper-sensitive time. He foolishly taunted his people by urging them not to "live in a fool's paradise". Truer words were never spoken. If only his predecessors had warned hapless citizens decades earlier, perhaps the hopeless situation Pakistan finds itself in would have been less grim.
Abandoned and isolated by the world, there's little choice but to pay heed to Qureshi as he went on to caution Pakistanis "not to expect support" from anybody, least of all the international community. He fell back on words that only those living in the subcontinent would use ("Don't expect the UNSC to wait with garlands …"). I found myself smiling at the familiarity of that phrase. It also takes guts to spell it out as candidly as he did. He pointed out why India has a distinct advantage here. Simply put, India has the money! The backing from other Islamic nations ('Muslim Ummah'), he warned, will not be forthcoming, mainly because 'many people' have invested in India. What he so effectively, if inadvertently, did was to point out the vast economic chasm that exists between the two countries.
It was a schoolboyish admission which more seasoned and sensible diplomats would never have tabled at such a sensitive juncture. There was a tinge of wistfulness, envy and regret in his blunt address. It was inevitable that his no-frills speech was unfavourably compared to the brilliant interview given to a prominent news channel in America, by India's Ambassador Harsh Shringla. Shringla spoke with academic authority and admirable panache, while taking some sharp questions from the Fox TV anchor. The difference in class couldn't have been sharper.
The mood in India is semi-euphoric at present. Why so? Because despite devastating floods, landslides and house collapses, which did take away the romantic edge of a plentiful monsoon, there is the prospect of a bumper harvest to look forward to. Given how sensitively our economy reacts to matters decided by the rain god, it is no wonder we are feeling upbeat and optimistic after months of despondency. In Mumbai, where the markets are obsessively monitored on a minute by minute basis, most of last week was invested in micro-analysing Dalal Street sentiments and giving the immediate future a big thumbs up. Local bazaars were buoyant, as Mumbai geared up for its biggest festival — Ganesh Chaturthi.
Walking through the crowded Colaba vegetable market, and chatting with local goldsmiths, one got the distinct impression that by the time we hit Diwali, the economy will be booming once more, after an unusually sluggish lull. If the financial pundits are right for once, people will not hesitate to buy glittering baubles by the bucket, now that they are done with splurging during Rakshabandhan. As they say, as if we Indians don't have enough festivals, we happily keep inventing a few more.
While the Prime Minister's feisty Independence Day message is still being processed, citizens are wondering what the hell is happening in Kashmir after the nullification of Article 370. There are versions galore, depending on what one wants to believe. But one thing's for sure, Pakistan's credibility has hit rock bottom and can't sink any lower in the eyes of the world. Even their dirty tricks' department has reached a dead end and taken such a drubbing, it will take much more than Imran Khan's bogus talk on August 14 to reassure his people all is well. "Show me the money," his harried folks are saying. That's right, boss. Where has $78.3 billion in American aid disappeared?
But why worry about our neighbour's haalat? We have enough on our plate to digest, with the Supreme Court refusing to pass directions to lift restrictions in J&K, saying the 'government needs more time'. Let's call it a reality check, but one that doesn't have too many admirers. Sure, a significant step in the right direction has been swiftly taken — like the proposed investor summit in Kashmir scheduled for October 12-14 with CII as national partner. Once money starts coming into the Valley, it will automatically lead to a sense of security about the future. By the time winter sets in, there will be other initiatives in place as well. Till then, unfortunately, the familiar sight of heavily armed security forces maintaining an uneasy calm will keep reminding us that what started on August 7, will have to be followed up by something much more tangible than rushing supplies to our Kashmiri brothers and sisters, and expecting them to "wait with garlands".
It's going to be a long haul — how long is anybody's guess. It's up to all of us to make that wait as painless as possible. Healing takes time. Healing also demands love. Let's not hold back. This moment in history will never return.
Kashmir was and will remain a "paradise on earth". Let nobody try and convert it into a 'fool's paradise'. There is already one in existence right next door. Right, Shah Mahmood Qureshi?
By Shobhaa De
DISCLAIMER: Views expressed above are the author's own.
Subscribe us on