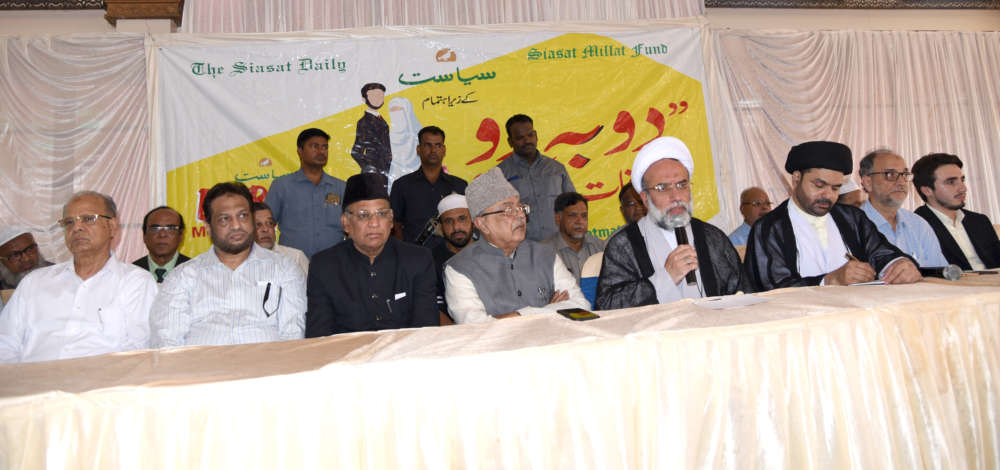 Hyderabad: The institution of marriage is not a formal one but through it, a man and a woman tying their knots of wedding, remain astray from sins. It is very regrettable that the promoters of western culture prefer free conjugal relations which is creating a terrible situation in the world. When a youth marries a girl, he vows not only to take care of her dignity and chastity but also to fulfill all her needs.
These thoughts were expressed by Ayatullah Mehdi Mehdipur while addressing a gathering organized on the occasion of 98th Du-ba-Du program of Siasat's Millat Fund.
Mr. Zahid Ali Khan, Editor of Siasat Urdu Daily presided over the function. He told that parents celebrate the marriage of their sons but after their marriage, they do not express any love and affection whereas it is fundamental that married couple should love each to present the house as a replica of paradise.
Mr. Zahid Ali Khan further told that Du-ba-Du program has become universally famous. It is likely to reach its centenary soon. By the grace of Allah (SWT), Du-ba-Du program provided a common platform for negotiating matrimonial alliances. He also said Siasat and Millat Fund are making arrangements for pre and post marital counseling soon. He informed that Du-ba-Du program is being presented in Kuwait, Dubai, Iran, Saudi Arabia, London, UAE etc.
Mr. Mohammed Qamaruddin, Chairman TS Minorities Commission expressed his delight for attending Du-ba-Du matrimonial alliances program and applauded the efforts Mr. Zahid Ali Khan and Mr. Zaheeruddin Ali Khan.
Mr. Shaukat Ali Mirza, Managing Trustee of Helping Hands told that Du-ba-Du program is a unique event which facilitates parents and guardians to select matrimonial alliances of their choice for their children.
Maulana Syed Qamar Husain Rizvi translated the Persian speech of Ayatullah Mehdipur into Urdu.
Present on the dais were Mr. Iftekhar Husain, Secretary, Faiz-e-Aam Trust, Mr. Mohammed Tajuddin Quadri, Mr. Syed Mustafa, Mr. Faesal bin Ali Al Quaiti, Dr. Ayub Haideri, Mr. Anwaruddin and others.
In all, the registrations of 100 boys and 200 girls were made.
Mr. Syed Khalid Mohiuddin Asad, Dr. Ayub Haideri, Ms. Fareeda Haideri, Ms. Farzana Banu, Mr. Mohammed Nasarullah, Dr. Nazim Ali, Dr. Shaikh Siyadat Ali supervised the arrangements of the function.
[source_without_link]Siasat News[/source_without_link]
Subscribe us on