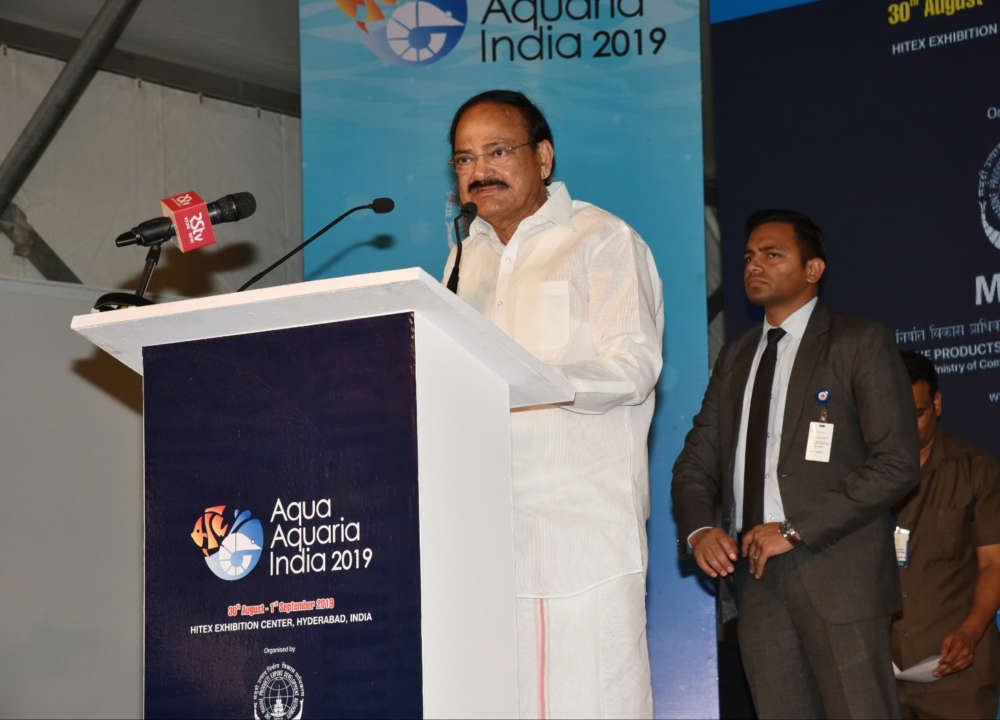 Hyderabad: Vice President M. Venkiah Naidu said that Farming is a noble profession and initiatives should be taken up to improve their economic conditions.
Inaugurating a three day 5th Edition of the Qua Aquaria India 2019 organized by Marine Products Exports Development Authority (MPEDA)at HITEX here Mr. Naidu said that the people were entering into aquaculture and fish culture and other professions because agriculture has become unviable for farmers. The farmers are taking to other professions which is unfortunate. Stating that while a Doctor wants his son to become a Doctor an Actor wants his son to become an actor a farmer does not want his son to become a farmer because it was not fetching any profits. Mr. Venkiah Naidu said that the Centre and the State must stand with the farmers by giving to priority in the budget.
In the present situation agriculture must be diversified into fisheries, aquaculture, dairy food processing for value addition so that more and more people would come into it he said.
Mr. Venkiah Naidu said that agriculture was a noble profession and that is why the leaders have given slogans Jai Jawan, Jai Kisan, and Jai Vignan. All these three have very important role Jawans are safeguarding the nation, farmers are producing food and there is food security besides scientist are coming up with new ideas and technologies including the Chandryaan which will soon land on the Moon he added.
Stating that Asia was the largest producer in the world and in 2-016, 85 percent of the global population engages in fisheries and aquaculture sectors was in Asia. Today India is the second-largest fish producer in the world with a production of 13.70 million metric tons of fish during 20181-19. Fish constitutes about 10 percent of total exports from India and almost 20 percent of agriculture exports in 2017 -18
With exports earning of USD 7 Billion dollars India is the fourth largest exporter of fish in the world. Apart from exporting marine products worth more than rs. 47600 crore the sector also provides employment opportunities to more than 14.5 million people residing in remote villages of the Indian coast, he said.
Mr. Venkiah Naidu further said that the contribution of fisheries to the GDP is about 1 percent and about 5.37 percent to the agricultural GDP. The world fish production through capture and culture fisheries in the marine, as well as freshwater regimes, was estimated to be about 178.8 million metric tons. Out of this, the food fish production was estimated at 157.9 million metric tons. The world population is ever-increasing and the rising food demand is putting further pressure on the available food resources Hence the need to boost fish production is felt now more than ever to ensure food security to India's billion-strong population.
He further said that there is room for both horizontal and vertical expansion of these sectors.
Earlier he felicitated ten innovative farmers who achieved successful production. He also launched virtual reality experience about lifecycle of a particular variety of shrimp. 
Mr. Talasani Srinivas Yadav, Minister for Animal Husbandry and Fisheries Government of Telangana and Mr. M. Venkatramana Minister for Fisheries Government of Andhra Pradesh spoke at the three-day National meet Banda Prakash MP were also present.
Siasatnews
Subscribe us on