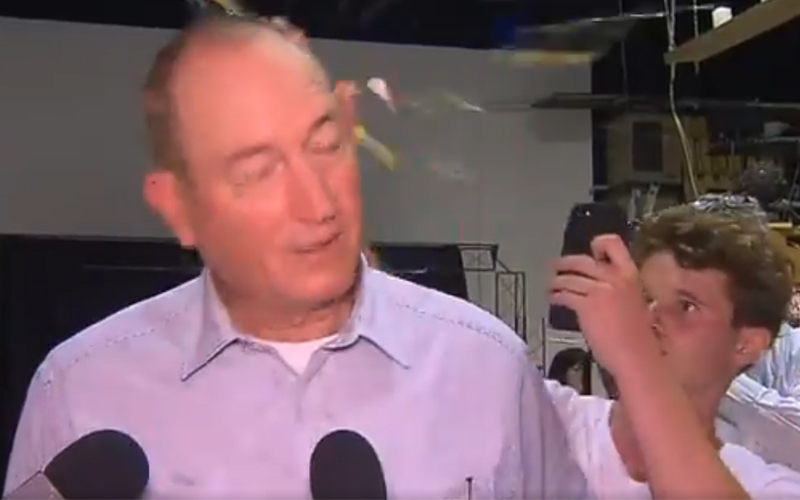 CHRISTCHURCH: 17-year-old Will Connolly dubbed "Egg Boy" will reportedly donate most of the money raised for him to victims of Christchurch mosque attacks.
An update on the GoFundMe page said Mr Connolly plans to donate "majority of the money to the victims of the Christchurch terrorist attacks".
Connolly, from Victoria, shot to fame after he was filmed smashing an egg over Queensland senator Fraser Anning on Saturday afternoon.
Connolly was behind Australian politician Anning at a Conservative National Party Meeting in Melbourne when he egged the senator for making victim-blaming comments in the wake of Christchurch mosque shootings.
[also_read url="https://www.siasat.com/news/teen-who-egged-anti-muslim-senator-hailed-heroic-social-media-1478530/"]Teen who egged anti-Muslim senator hailed as 'heroic' on social media[/also_read]
The senator retaliated by punching the youngster in the head twice and his supporters chokehold him. A GoFundMe page was subsequently set up for Mr Connolly to raise funds for teenager's legal fees and 'to buy more eggs'.
He was arrested at the scene but released without being charged.
Later, he spoke out on Twitter. "Don't egg politicians. You get tackled by 30 bogans at the same time," he said in a video. "I learnt the hard way."
Also sprach #EggBoy, aka @willConnolly__ pic.twitter.com/2alSIKo6rt

— Borzou Daragahi 🖊🗒 (@borzou) March 16, 2019
He also revealed on Twitter that: "This was the moment I felt so proud to exists as a human being. Let me inform all you guys, Muslims are not terrorists and terrorism has no religion. All those who consider Muslims a terrorist community have empty heads like Anning."
At least 50 Muslim worshiooers were martyed and dozens wounded after an Australian white supremacist opened fire at the mosques in Christchurch while families were at prayer.
Subscribe us on