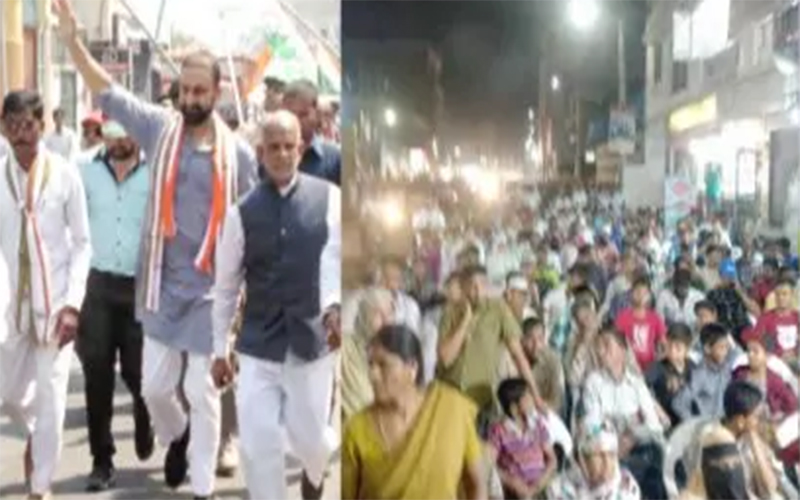 Hyderabad: Congress candidate for Hyderabad Lok Sabha constituency, Mr. Feroz Khan told that KCR and Jagan are the "B-Team" in the Center.
In case, BJP falls short of seats after the elections, TRS and YSRCP will support BJP. Feroz Khan alleged that Hyderabad MP, Mr. Asaduddin Owaisi is the first disciple of KCR. By supporting KCR blindly, Mr. Owaisi is indirectly supporting BJP.
During his election campaign, Mr. Feroz Khan visited Kotla Alijah, Noor Khan Bazar, Husaini Alam and other areas and met the voters personally. He got warm welcome at every place he visited. People told that they are in favour of change. They got vexed up with no development of area.
Mr. Feroz Khan promised that he will work purely on the basis of welfare and development agenda. He addressed the mass meeting last at Moin Bagh area of Chandrayangutta where a large number of people attended the event. He also told that only Congress can dislodge BJP Govt. in the Center. For the formation of Govt. in the Center, the party needs 270 MPs. It is therefore, essential to strengthen the hands of Mr. Rahul Gandhi.
Mr. Khan pointed out that ever since Mr. Modi assumed power, he did nothing except making verbal promises. He made false promises like two crore jobs, getting back black money from abroad, depositing Rs. 15 lakh etc. In addition to it, he took horrifying decisions like GST, demonetization etc. At attempt has been made to intervene in Muslim Personal Law by enacting Triple Talaq Bill.
Mr. Feroz Khan expressed surprise that Mr. Modi is taking the credit of launch of A-SAT developed by DRDO. Mr. Modi is politicizing the sacrifice of our soldiers who laid down their lives in Kashmir.
Criticizing the role played by CM of TS, Mr. KCR, Mr. Feroz Khan told that he did not fulfill the promise of providing 12% reservations to Muslims. Judicial power has not been given to Wakf Board.
Mr. Khan appealed to the people to cast their votes in his favour.
[source_without_link]Siasat News[/source_without_link]
Subscribe us on