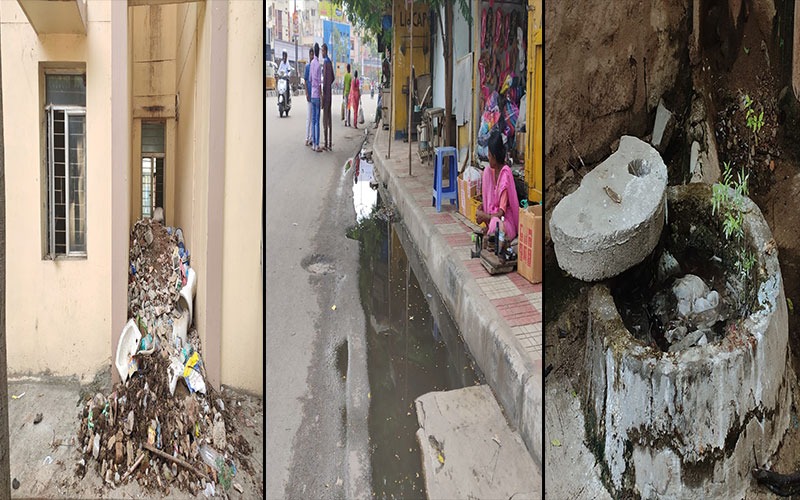 Hyderabad: On Tuesday morning, Damodhar, a 20-year-old migrant worker in Hyderabad, was lying outside the ward amidst a swarm of mosquitoes at Ronald Ross Institute of Tropical and Communicable Diseases, aka Fever Hospital, in Nallakunta. Damodhar's illness started with a headache and fever, and then joint pain.
A diagnosis at Fever Hospital confirmed he had dengue. At first, doctors at the hospital prescribed him the relevant medication and advised him to wear clothing that covers much of the body to limit exposure to mosquitoes.
Later, when the fever aggravated, Damodhar was admitted to Ward No. 2 of the hospital where he is administered fluids.
The Fever Hospital's male ward 2 is infested with mosquitoes and is a notorious place by now. Owing to construction debris is piled up right outside the ward. Inmates too throw leftover food and plastic bags there, which attract mosquitoes.
"Mosquitoes hover over my bed even during the day. At night, the situation is really bad," said Damodhar.
"I can't even use a mosquito coil because the patient next to my bed is allergic to smoke. At night I wrap myself with a bedsheet, and during the day I come out to escape the buzz of the mosquitoes," he said.
Fever Hospital at Nallakunta is at the moment a breeding ground for mosquitoes. A walk on to the other side of the hospital near the public toilets, the manholes are open and filled with stagnant water.
The Nallakunta Nala adjacent to Fever Hospital is an unrestricted site for mosquito breeding. Plastic bags float at the edges of the stream, stopping the flow of water.
"Come here after 6 pm, and the very next day you will find yourself admitted in Fever Hospital," said Ravi Reddy, a merchant whose store is located near Nallkunta Nala.
"Swarms of mosquitoes hover over your head, and soon they perch on bare skin and begin piercing it," said Ravi.
"I have been closing my store early for about a month because I do not want to fall ill. My workers have already fallen ill," he said.
A sanitation worker at the hospital, who wished not to be named, said, "We do what we can do to keep the premises clean. Since a huge number of people come in every day, a lot of waste is generated at the hospital. The sanitation staff can't keep up with the amount of cleaning required here."
In the first 15 days of September alone, 28,993 fresh cases of dengue, typhoid, malaria and other vector-borne diseases were diagnosed at Fever Hospital. "Even on Sundays, the hospital gets about 1,500 patients," said Dr Rajashekher from the emergency ward at Fever Hospital.
"On weekdays, we see 2,500 patients each day," he added.
Deputy Mayor Baba Fasiuddin, following instructions from MAUD Minister KT Rama Rao, rushed to Fever Hospital to monitor its functioning. He said, "The government is doing its best. All GHMC teams concerned with sanitation are involved in trying to eradicate vector-borne diseases in Hyderabad."
When asked about the swarms of mosquitoes at Fever Hospital, he said, "This problem is because of the Nala. We are going to desilt the Nallakunta Nala and fumigate the hospital."
Subscribe us on