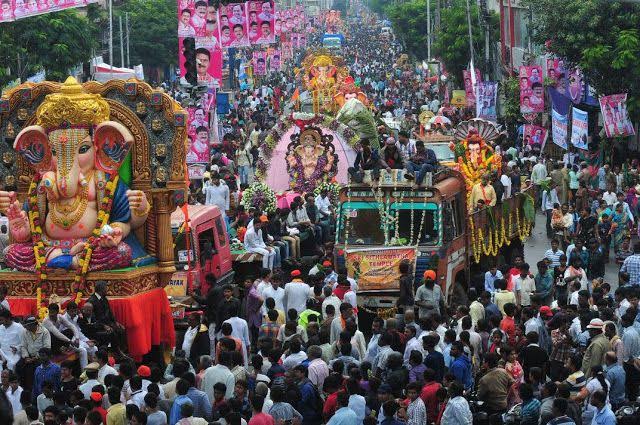 Hyderabad: GHMC will be setting up 894 cranes in 32 areas of city to facilitate Ganesh immersion. Apart from this, the civic body is also setting up static cranes and mobile cranes. Civic Body asked the HMRL officials to pay special attention where works are in progress and get
pot holes repaired and patch works done.
GHMC also asked HMRL to remove construction materials all along the route from JBS to Secunderabad Station Road route. Civic body asked R&B Department to put up more efforts as most of the roads are under the latter's purview.
Mayor Dr Bonthu Ram Mohan said that the Ganesh Immersion on September 12 has to be held in a coherent manner. While speaking in the meeting with officials of various departments like, Police, TSPCL, HRCL, HMR, Revenue, R&B etc H.W.Mayor asked to provide better arrangements then last year by overcoming any shortfalls if any. He said, "Immersion of Idols should be completed before dawn as was done during last 2 to 3 years.
Have preparedness meeting at respective Commissionerate Zone's concerned to have a better coordination between various stakeholders departments for arrangements".DanaKishore,Commissioner GHMC, said instructions were issued to the sanitation wing to take up all necessary measures to lift garbage, left over waste as when formed during immersion process and after immersion. He said, "bleaching powder and fly ash to be done and fogging operations enroute and at water bodies. The S.E. Electrical is instructed to ensure all street lights glowing enroute of procession and Chief Engineer to look after road repair works".
The Commissioner further asked the TSPCL to provide Generators at the specific places as suggested by the CP Hyderabad, apart from arrangements. Anjani Kumar, Commissioner of Police, Hyderabad suggested for removal of Hoardings, Cement Barricades and for strong barricading, sufficient cranes at Necklace Road and on Tank Bund and ensure driver of the cranes, mechanic and spare parts available at spot during the immersion processes for quick and smooth movement of vehicles.
HMWS&SB officials informed they are arranging 32 lakhs water sachets at various water camps, 2 lakhs more than last year, preventive measures on over flow of drainage and have super sucker machines ready to attend any emergency work. HRDCL officials informed, that they sufficient stock of Shell Mac material to take up road repair works.
Authored by Mohammed Hussain
mohammedhussain.reporter@gmail.com
Subscribe us on