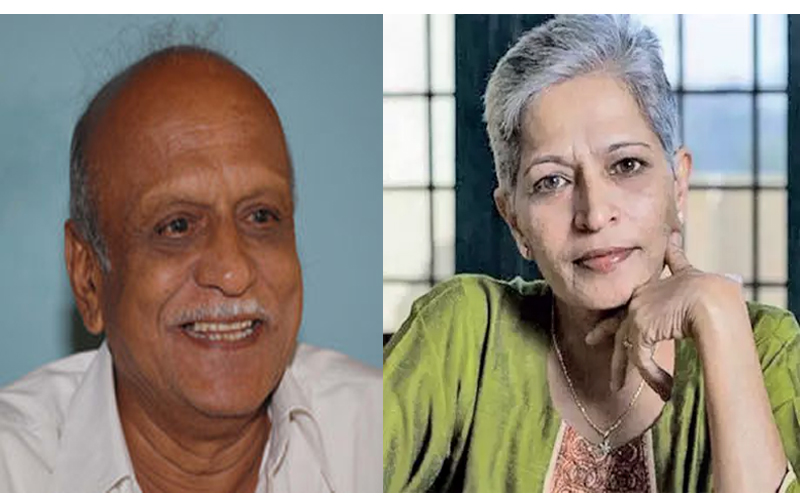 Bengaluru: Amol Kale, the prime accused in the Gauri Lankesh case, have reportedly identified by two eyewitnesses as one of the men who did a reconnaissance of scholar M.M. Kalburgi's house in Dharwad a fortnight before he was assassinated on August 30, 2015.
According to the report of The Hindu, the eyewitnesses have also identified Gauri case accused Praveen Chatur and Ganesh Miskin as the shooter.
His wife Uma Kalburgi, who answered the door to the two shooters who posed as students of Kalburgi, has identified Miskin (28) as the man who shot her husband.
Ganesh Miskin hails from Hubballi and has been key accused in the Gauri Lankesh murder case. He allegedly the biker who ferried the hitman to Gauri Lankesh's house, the night she was assassinated on September 5, 2017.
A paan shop owner and a supervisor working at an under-construction building next to Kalburgi's residence have identified Chatur (28) as the biker who ferried Miskin.
These two eyewitnesses have helped the SIT link the alleged kingpin of the gang Amol Kale to the scene of the crime
"The SIT will soon submit the charge sheet in the Kalburgi case," said the source. The SIT, which was set up to investigate the Gauri murder case, was directed to probe the Kalburgi assassination case also by the Supreme Court in February – TNE report.
"Praveen Chatur was seen by one of the eyewitnesses near Kalburgi's residence a few days before the murder. We suspected that he was doing a recce of the house. We arranged a test identification parade and the eyewitness identified Amol Kale as the man with Praveen Chatur two weeks before the murder," the official said.
Subscribe us on