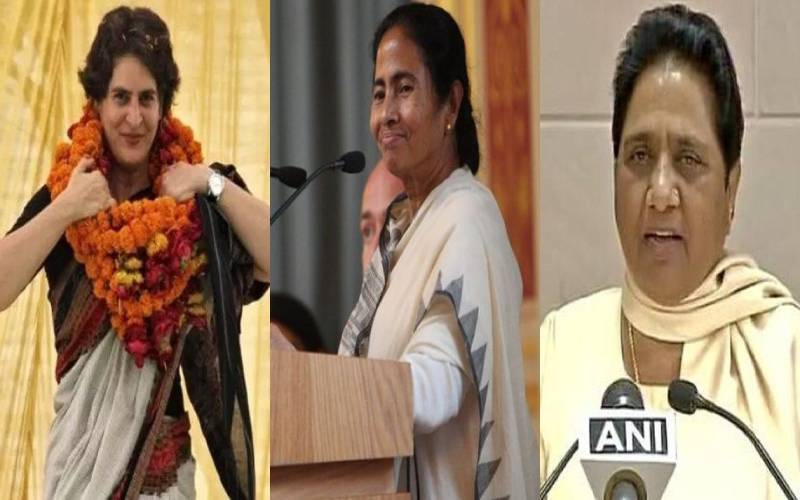 New Delhi: It seems that in the General Elections of 2019 three women will pose a big challenge to BJP. Although these women belong to different sections of the society, all have the same goal i.e., defeat BJP in the next General Elections.
According to the report published in Hindustan Times, these three women are Ms. Priyanka Gandhi, Ms. Mayawati and Ms. Mamata Banerjee. Mr. Yashwant Sinha said that opposition parties have powerful women leaders compared to NDA. There is a need for BJP to worry as it had lost elections in three major Hindi heartland states, he added.
Priyanka Gandhi
Seeking to inject fresh energy into the party, the Congress formally ushered Priyanka Gandhi into the party fold on "a mission" to transform its fortunes ahead of the Lok Sabha elections due in a few months.
Priyanka, whose formal entry into politics has been a matter of speculation for several years, was given the charge of eastern Uttar Pradesh, a state which always plays a key role in the formation of the central government as 80 out of 543 Lok Sabha seats are at stake there.
Mayawati
A 63-year-old former teacher's party, BSP represents lower caste of Hinduism. Recently, BSP formed an alliance with SP who has the support of both lower castes and Muslims.
In such a scenario, the SP-BSP alliance may pose a big threat to BJP.
Mamata Banerjee
Another opposition leader, Mamata Banerjee wants to defeat BJP in the next election. She was railway ministn the Center for two times.
These three women leader may pose threat to BJP in General elections.
Another opposition leader, Mamata Banerjee wants to defeat BJP in the next election. She was railway minister in the Center two times.
SP-BSP in UP
Despite supporting Congress in Madhya Pradesh and Rajasthan, BSP decided to keep Congress away from the pre-poll alliance.
Pre-poll alliance between SP and BSP is the first step to unite opposition parties. If Congress also joins the alliance, BJP will have to lose the election in UP.
Mamata Baneerjee is also an experienced politician. Many politicians want to see her as the next PM of India.
Subscribe us on