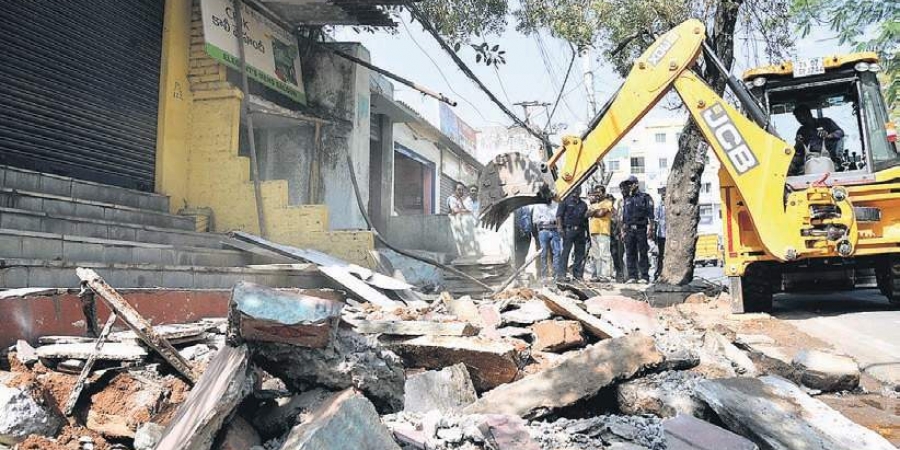 Hyderabad: The Greater Hyderabad Municipal Corporation (GHMC) has identified 457 dilapidated buildings in its limits for which notices have be served or the residents have to evacuated and seized, informed GHMC Commissioner Dana Kishore on Monday.
The GHMC Commissioner held a video conference with Additional Commissioners Amrapali Kata, Adwait Kumar Singh, Sikta Patnaik D. Jayaraj Kennedy, Krishna, Chief Engineers Suresh and Ziauddin, CCP S. Devender Reddy, Srinivas, etc., with Zonal Commissioners and Deputy Commissioners. Addressing the conference, the Commissioner said that it was unfortunate that a child died due to roof collapse of an old building. He said there were 457 dilapidated buildings in the GHMC limits on which action was yet to be taken. He instructed the CCP to issue charge memo to the concerned if there was further delay in taking action.
Further, the Commissioner informed that the GHMC has demolished 485 dilapidated buildings in 2016, 294 in 2017, 402 in 2018 and in 2019, so far, 176 dilapidated buildings have been demolished out 765 identified. He said 132 buildings were either seized or repairs were carried out. He instructed that immediate action should be taken on the remaining 457 dilapidated buildings. Of 457 buildings, as many as 197 are in Khairtabad zone, 122 in Charminar Zone, 104 in Secunderabad Zone, 19 in L.B.Nagar Zone, 8 in Serilingampally zone and 7 in Kukatpally Zone.
GHMC to distribute saplings near temples during Bonalu festival
The Commissioner also informed that distribution of saplings would be done near temples during Bonalu festival in GHMC limits. He said 1 Crore saplings were ready for Harita Haram plantation program and their distribution would be done till the end of August.
During the current financial year, a total of 47 theme parks have been planned for development and in each zone, Swach Parks would be developed on at least 2 to 3 acres land of land. There will be an emphasis on Swachh Bharat Mission and a water harvesting theme park.
Old age Survey
A total of 175 teams were drafted for a survey for the identity of old age between 57 to 64 years of age and the draft list will be published on or before 25th  of this month and suggested to survey accordingly.
Lifting of garbage during the evening
To further improve the of garbage lifting for each circle, 4 mini tippers and 2 Bobcats have been allotted from today as a lot of garbage is accumulated by evening. With the deployment of additional vehicle, a change should be visible in sanitation, the Commissioner told officials. Further, the Commissioner instructed the Zonal Commissioners and DMCs to provide 2 dust bins at all bus stops within a week. He also asked the officials to take action and ensure that all business establishments provide dust bins at their place. 
Subscribe us on