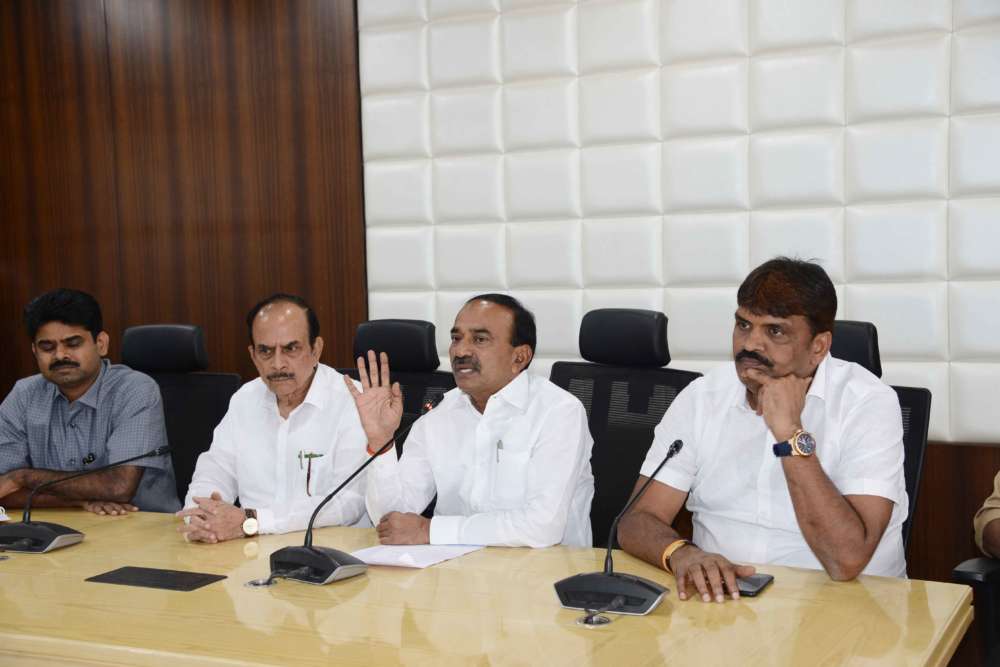 Hyderabad: Health Minister Etela Rajender has directed Greater Hyderabad Municipal Corporation (GHMC) to ensure cleanliness and hygienic conditions in Hyderabad during monsoon.
The minister said that incidence of dengue was negligible in the current season compared to 2017. He said that apart from seasonal diseases, there are no serious infectious diseases spreading in the city, adding that seasonal diseases occur every
rainy season.
He wanted civic officials to take steps so that residents do not have concerns on sanitation in their surroundings.
Etela held a meeting with GHMC officials at its office in Tank Bund on Wednesday and enquired about steps taken by the civic body in view of jump in fever cases across the state in August. He wanted them to
continue anti-larva and fogging measures to check the mosquito menace, which is
proving to be the root cause of different forms of fever being seen at present.
Rajender instructed the officials of GHMC, Municipalities and DMHOs of Medak, Ranga Reddy, Medchal and Sanga Reddy DM&HO to ensure regular Fogging and Spraying at vulnerable places and to take timely treatment of water and vector borne disease effected persons and to take special
drive on sanitation in order to control and spread of seasonal diseases.
The Health Minister, Home Minister Mohd. Mahamood Ali, Minister for Labour Ch.Malla Reddy, along with Principal Secretary Health Santhi Kumari, reviewed on seasonal diseases with the health officials of Medak, Ranga Reddy, Medchal and Sanga Reddy, and measures being taken to control and spread of diseases.
And number of Dengue cases reported so far and update the data Government and Private Hospitals.
Rajender said that special drive should be taken to lift garbage by engaging more man power, machinery and vehicles on war footing and spraying and fogging operations be conducted in all localities and in private and government schools.
And required budget will be sanctioned to tackle the problems. It is also responsibility of the owners of open plots to keep clean where garbage and debris accumulated.
Apart from taking preventive measures for government side, only on participation of citizens and their involvement in these measures gives desired results.
He appealed to the RWS, SHG and NGOs to create awareness in control of diseases
by implementing preventive measures. Minister said the medical officers should not apply for leaves for further one and half month.
Special counters were opened in Osmania
General Hospital, Gandhi Hospital apart from 95 Urban Health Centres to attend the
patients and 25 special Counters are working in attending the patients.
Minister for Home said that there are festivals in September and October and therefore movement of people will be higher in the city, and so special care should be taken in lifting of garbage, fogging, spraying on water stagnation points be done.
Health camps should be conducted in co-ordination with private hospitals in slums and where there are few hospitals, he said.
Mayor Bonthu Rammohan said awareness campaign should be taken by IEC, NCC,
NSS, SHGs, NGOs to educate people in preventing the spread of mosquitoes by adopting Friday-Day Dry-Day etc.
GHMC Commissioner Lokesh Kumar said the people should feel assured that the civic body is taking all remedial measures to control spread of seasonal diseases.
Subscribe us on