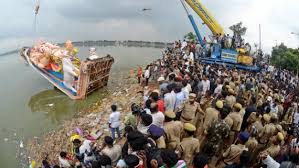 Hyderabad: By keeping last year's experience in view the Khairatabad Ganesh Utsav Samithi organisers and Hyderabad City Police have decided to complete the immersion of Khairatabad Ganesh by 2 pm on Thursday.
According to sources the experiment of new timings was carried out last year. It was taken out early in the morning and by 1-00 pm the immersion was over.
"This year we are taking measures to complete the immersion process before 2 pm," he said.A special trolley which is used to lug the huge Ganesh idol is being readied for the occasion.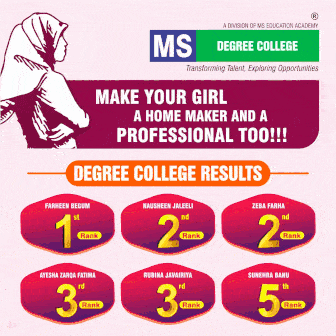 The officials working in the mechanical division of the Irrigation Department carry out the preparation of machines every year.
Anil Kumar, Additional Commissioner of Traffic, Hyderabad, said, "The works began on Tuesday. The route map was finalised after discussions with the Utsav Samithi organisers. Metal sheds and advertisement boards will be removed before early morning hours on Thursday and the welders, carpenters will detach the other idols from the main idol."
It is learned that the committee is using the same trolley for the Ganesh immersion from the last 25 years. Every year it repairs the same vehicle and places the 50-tonne gigantic Ganesh idol on it with the help of a crane.The Ganesh shobayatra will be carried on the trolley during the procession. In the last four years height of the idol has gone up to 61 feet from 56 feet.
"The idol will be adorned with a 750-kg laddu. A city-based devotee has come forward to donate the laddu prasadam," said a committee member.
Authored by Mohammed Hussain, mohammedhussain.reporter@gmail.com
Subscribe us on