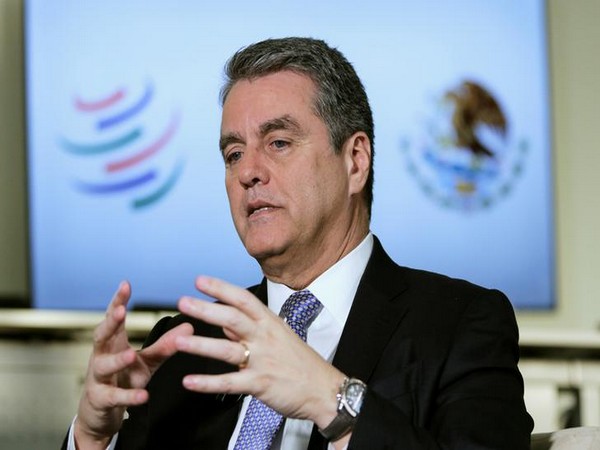 New Delhi [India]: Director-General of World Trade Organisation (WTO) Roberto Azevedo on Tuesday said that the rising tension on trade expansion and global economic growth would negatively affect developing and least-developed countries.
After addressing a ministerial meeting of the developing countries of the WTO here, Azevedo said that "all will feel the effects of the rising trade tension and developing countries and least-developed countries would be the most negatively affected."
Azevedo outlined the key areas in which reform was being discussed and underscored the importance of engagement in all areas. He also said that the members of the WTO seemed to prefer not to attempt to create a package of reforms as it would be better to work to change and adjust progressively.
He further noted that the informal meeting comprised "a representative group that can contribute significantly to the process of understanding where we are, and considering where to go."
He said, "No one is talking about trashing the system that we have and 'starting from scratch." "The main focus is on preserving the system and building on what we have."
The ministerial meeting here urged all the members of global trading body to engage constructively to resolve the ongoing impasse on the dispute settlement system that threatens to completely paralyse the organisation by this year-end.
Eighteen developing countries, including China, attended the two-day meeting, chaired by India and explored ways for working with all members to strengthen the multilateral trading system. Commerce Minister Suresh Prabhu headed the Indian delegation to the meeting.
Speaking after the ministerial meeting, Azevedo said, "This is an important moment. The decisions members take on the issues I've raised today will determine the future of the global trading system. Equally, a failure to confront these issues would also determine the path forward in what could be a very negative way."
"I personally don't believe that the status quo is an option. But what happens next is up to you, the members.
This is your organisation. I think we have an opportunity now to make it stronger and to set it on a positive path for the future. So I urge you to make your voices heard in this debate," he added.
[source_without_link]ANI[/source_without_link]
Subscribe us on