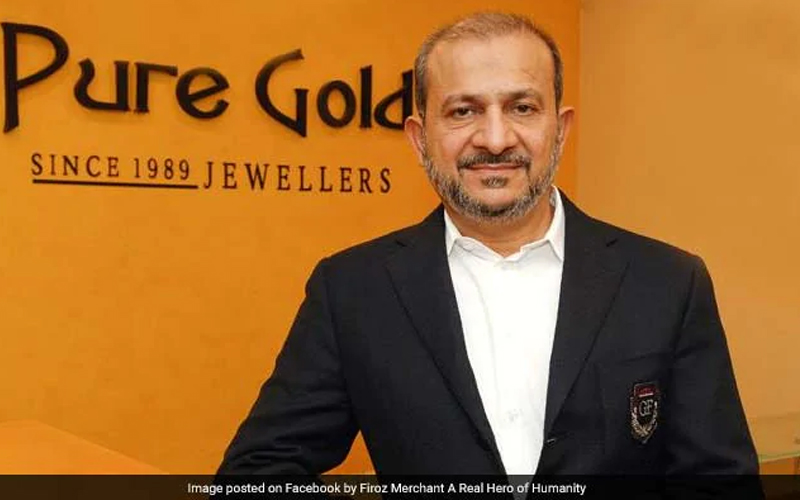 DUBAI: Another Dubai-based Indian tycoon Firoz Merchant has received the 10-year visa or permanent residency known as the Golden Card.
Merchant, Founder, and Chairman of Pure Gold Jewellers got a telephone call a few days ago informing him of the decision that residency permits also been granted to his wife, two children, and extended family.
The 61-year-old self-made millionaire expressed his warm gratitude to the UAE Government.
Speaking to Khaleej Times, Merchant said the General Directorate of Residency and Foreigners Affairs (GDRFA) in Abu Dhabi called him on June 1 and asked him to submit his and his family's passports for permanent residency. "I visited the GDRFA office the next day and within no time, they stamped the 10-year auto-renewable permanent residency.
[also_read url="https://www.siasat.com/news/indian-investor-ma-yousuf-ali-gets-uaes-first-residency-golden-card-1503521/"]Indian investor MA Yousuf Ali gets UAE's first residency golden card[/also_read]
"The UAE is the University of the universe and among the greatest and most beautiful countries in the world. The country provides world-class safety, security, education, and healthcare facilities to its residents to live a valuable life.
"Over 250 nationalities residing in the UAE are united as a family trying to fulfill their dreams and live a better future. I am very grateful and thankful to the government for granting me the lifetime permit to reside in the UAE with my family," he added.
Known as the "merchant with a heart of gold", Merchant has become famous for his philanthropy, particularly spending millions to help thousands of debt-laden expatriate prisoners imprisoned in UAE jails.
Mumbai-born businessman hailed from a poor middle-class family is a school dropout. Following his father's teaching to embrace our struggles with compassion and gratitude, Merchant made a success of his life and pulled himself out of deep poverty.
The first gold residence card-permanent residency (PR) was given to diaspora businessman Yusuff Ali MA, Chairman and Managing Director of Lulu Group.
Subscribe us on