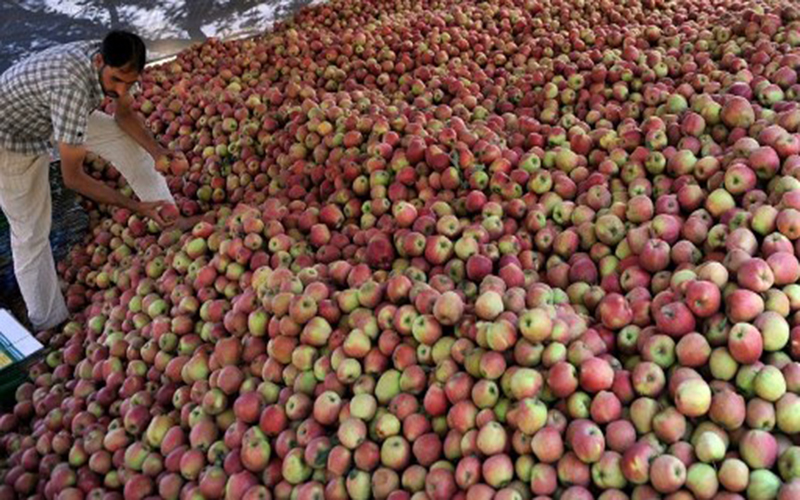 New Delhi: After abrogation of Article 370 of the constitution, one of the primary plans of the Modi government has been to ensure that the apple produces in the Kashmir Valley are bought and right prices are paid to win the hearts of the locals, as earlier reported by IANS.
Now, more graphic details emerging show how the government will go about it.
NAFED will complete the process of procurement
Not only has the Government of India announced procurement of apples produced in Jammu and Kashmir during the current season of 2019, but NAFED will complete the entire process of procurement through designated State Government Agencies by December 15.
The government has decided that procurement will be made directly from genuine apple growers, to ensure that there is no middlemen involved taking a commission.
Direct Benefit Transfer (DBT)
Moreover, to ensure total transparency and zero corruption, the State Government will process payment directly to the bank account of the apple grower through Direct Benefit Transfer (DBT).
Normally, the best qualities of apples are sought after and in many cases inferior produce are left non-procured. But the government has decided that all categories of apples be it of A, B and C category, will be procured.
What's more? No discrimination among districts. Apples will be made and from all the apple producing districts in Jammu and Kashmir as well as designated mandis in Sopore, Shopian and Srinagar.
Fair prices will be fixed by Price Committee
Fair prices for various categories will be fixed by the Price Committee that includes a member from the National Horticulture Board, says the government.
Earlier, IANS reported, the government plans to buy them in bumper price to appease Kashmiris. During segregation, a Quality Committee will ensure proper grading of varieties of apples.
The Chief Secretary will be responsible for implementation and coordination committee at the State level.
The Ministry of Agriculture, Ministry of Home Affairs and other Central agencies will oversee "smooth implementation of the scheme", says the government.
It was IANS who first reported that government plans to procure apples this year in bumper prices as part of its multi-pronged approach to win over the hearts and minds of Kashmiris post the abrogation of Article 370 on August 5.
Subscribe us on