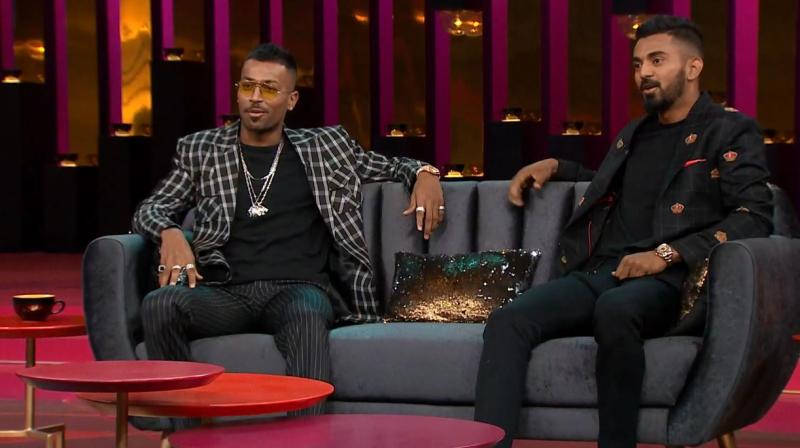 Mumbai: Koffee with Karan, a popular talk show on Star World India hosted by film producer and director Karan Johar is the longest-running talk show in Indian television. It recently featured Team India stars KL Rahul and Hardik Pandya.
The young Indian lads talked on many topics ranging from how they spend their time off-field, romanticising women and their personal life.
Hardik Pandya was slammed for his comments objectifying women when the host questioned him about his personal life, Pandya revealed how his family were cool when it came to discussing his sex life openly.
https://twitter.com/StarWorldIndia/status/1081953540199862273
Pandya described an incident when he took his family out for a party and they asked him which women he had a "scene" with, referring to the women Pandya had hooked up with.
The cricketer said "And I actually had to tell them. This one. This one. This one," pointing out the women he slept with and he further added that how his family were proud of him.
He went on to say that he would not shy away from telling his parents about losing his virginity and he openly tells his parents that "Aaj mai kar ke aaya."
"I like to watch and observe how they (women) move. I'm little from the black side so I need to see how they move," said the 25-year-old cricketer when Karan Johar asked him why he doesn't ask women their name in a nightclub.
Pandya's cheap comments did not go down well with Twitterati, here's how Netizens responded,
https://twitter.com/geetikaganju/status/1081950122295156738
https://twitter.com/PrachiNotDesai/status/1082001532613054464
This is so classic! All guys are offended that Hardik Pandya chose Virat over Sachin and not by his absolutely disgusting, classless, misogynist behaviour. #KoffeeWithKaran

— Pradnya (@topradnya) January 6, 2019
#HardikPandya comes across really badly in the #KoffeeWithKaran⁠ ⁠ episode. His additude and views on women were really cringy.Bad timing aswell, exspecially since his position in the #IndianCricketTeam is uncertain. Totally unessasary going on the show! Bad PR move

— Adarsh Kandy (@Akfilmreviews) January 6, 2019
#HardikPandya should've chosen his words better on the #KWK show. Objectifying women is not cool. @hardikpandya7 he may not be scoring runs on the field but definitely a better person is @klrahul11 #

— Bhavik Kapadia (@BhavikK11) January 6, 2019
https://twitter.com/AvasthiKanika/status/1081944921995730944
I know #HardikPandya is star and all but @BCCI should teach him how to show some respect for women. You can't say on National television that " Waah Aaj tu karke aaya hai " (Sex) there are lot of people who thinks you as their inspiration.Treating women like another MOM trophy.

— Harshit (@Asktheharshit) January 6, 2019
Subscribe us on