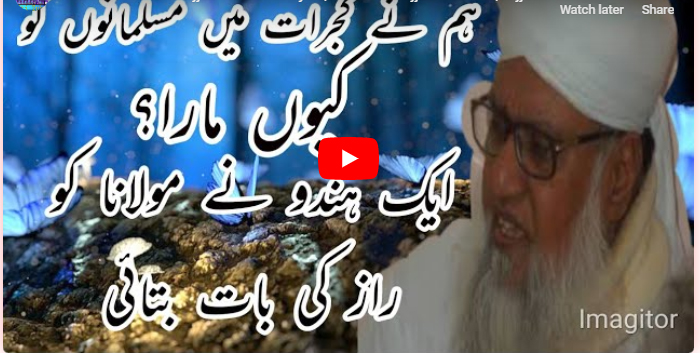 Maulana Khalilur Rahman Sajjad Nomani in this video reveals that at the time of Gujarat 2002 riots he went there to take stock of the situation. There, with the help of Times of India chief editor, he managed to meet the Adivasi leader who incited his community to carry out Muslim genocide.
When Maulana politely asked the Adivasi leader the reason behind his venting anger against Muslims, the Adivasi leader said there are a lot of Masajid and madrasas in the vicinity of Adivasi locality. He said Muslims eat lavishly but never feed Adivasis living near them. For years, anger developed among Adivasis against the Muslims. Meanwhile, RSS carried out welfare activities there. It fed the poor Adivasis and sent their children to school thus winning their hearts.
RRS hatches plan
In return, RSS asked them to take revenge with Muslims at an appropriate time. So at the time of Gujarat riots, they massacred Muslims at the behest of RSS.
Maulana appeals Muslims to bridge the gap between Muslims and other communities and show them the manners taught by the Prophet Mohammed peace and blessings be upon them.
Subscribe us on