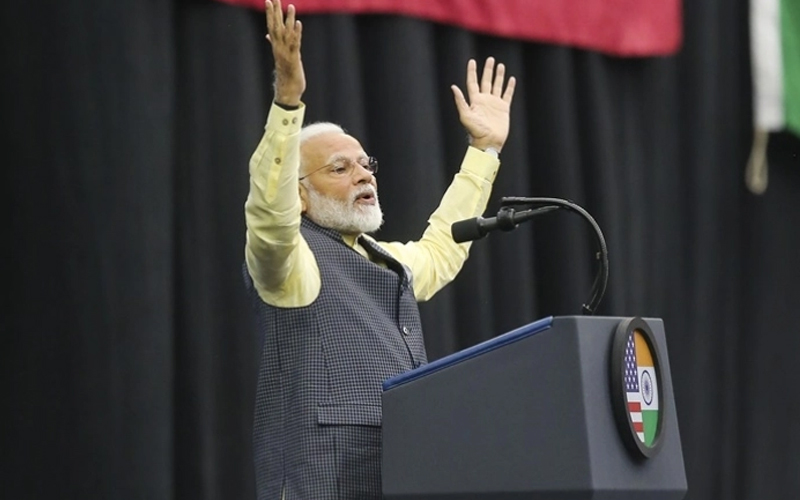 Prime Minister Narendra Modi on Sep 22 said that Article 370 had deprived the people of Jammu and Kashmir and Ladakh of development since terrorists and separatists were misusing the situation, and after the abrogation of the law, people in the region have got equal rights.
" Article 370 had deprived people of Jammu and Kashmir and Ladakh of development. Terrorist and separatist elements were misusing the situation. Now after abrogation, people there have got equal rights," PM Modi said at the Howdy Modi event in Houstan.
PM Modi also hit out at Pakistan for sponsoring terror with the culprits of 9/11 and 26/11 attacks being linked to the country.
US President Donald Trump also joined him for the massive event which saw the presence of over 50,000 people, mostly Indian-Americans from the 48 states.
The Prime Minister also interacted with members of the Dawoodi Bohra community and said: "The Dawoodi Bohra community has distinguished itself across the world. In Houston, I had the opportunity to spend time with them and speak about a wide range of issues."
Also, the Global Kashmiri Pandit Diaspora (GKPD) diaspora endorses axing Article 370 and expressed its support for the move.
The organisation said it will "unequivocally support Prime Minister Narendra Modi and India to raise awareness that the cessation of Article 370 will enhance human rights greatly in Kashmir".
Indian men and women dressed in colourful traditional attire hailing from different parts of India, including Punjab, Maharashtra and Gujarat, were gathering for the three-hour event, where President Trump share the stage with Modi in a special gesture.
The event was held at the NRG Football Stadium, one of the largest in the US, has been organised by the Texas India Forum (TIF), a non-profit organisation.
Source:
With agency inputs
Subscribe us on