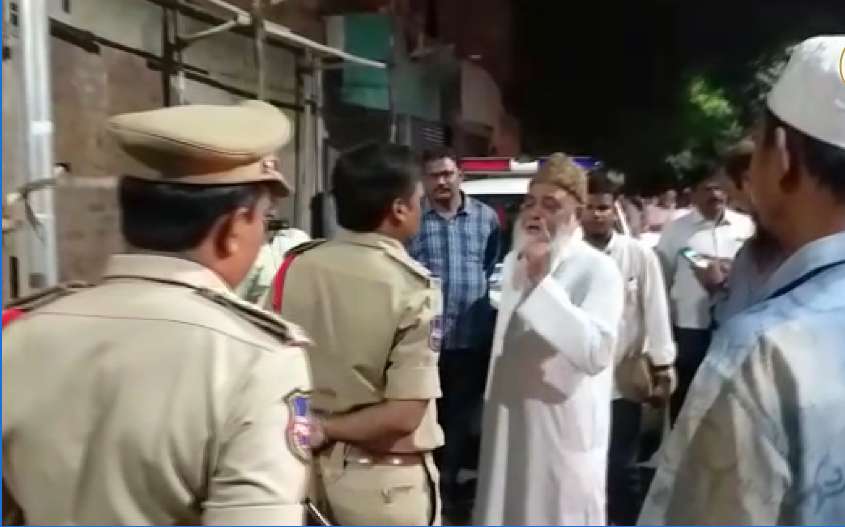 HYDERABAD: Mild tension prevailed on Tuesday in Saidabad after the City police shut down the martial arts training camp run by Darsgah-E-Jihad-O-Shahadat (DJS) and deployed heavy force in the area.
According to reports, DJS on July 11, started a special training camp at Hazrat Ujale-Shah Eid Gah Grounds in Akbarbagh in view of the lynching of Muslims across the country and
However, sudden shut down by the police had closed the doors of the camp for about around 100 candidates who joined to get trained in Karate, and other self defense skills. .
Maulana Naseeruddin, President Wahdat-e-Islami reached Eidgah Ujale Shah Ground and registered his protest against police action. He opened the doors of the Eidgah and went inside.
Founded on 4 December 1983 by Shaikh Mahboob Ali, the center imparts martial arts training to Muslim youths at Hazrat Ujale-Shah Eidgah grounds in Akbarbagh Saidabad solely with an aimed at making Muslim youths self reliant in their defence.
The training camps were temporary closed in 2013 after the death of DJS president Shaik Mahboob Ali.
However, according to Times Of India reports, the revival of the training camps under the banner "Learn self defence & Save Ummah" at Saidabad, one of the communally sensitive areas in the city has forced police to maintain alert.
The group claims to have trained about 50,000 people including Muslim girls and women, in self-defence techniques at its training camps.
DJS president Mohammed Abdul Majid told Times Of India, "DJS never preached communal hatred among youths, but it is proud to say that it has trained as many as fifty thousand Muslim youths in self-defense as it is the need of the hour to impart self defence training to the youngsters of the community".
Subscribe us on