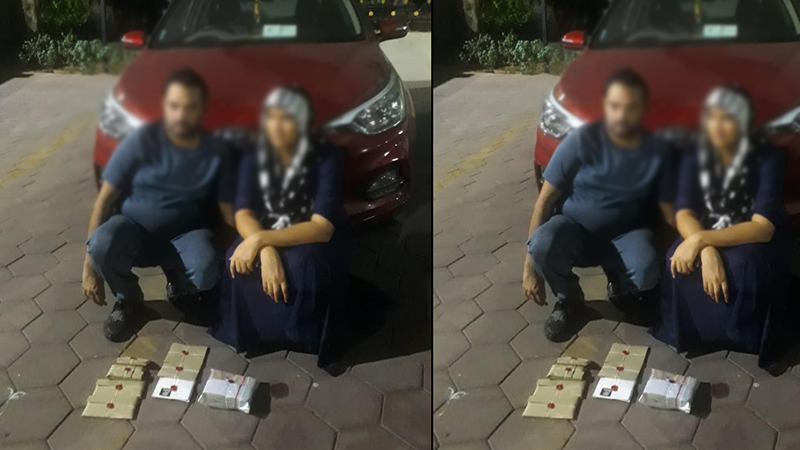 Mohammed Hussain
mohammedhussain.reporter@gmail.com
Hyderabad: The Prohibition and Excise Enforcement Department arrested today a couple that was reportedly involved in a drug supplying racket in the up-market Banjara Hills and Jubilee Hills areas.
The department officials also seized nine gram of cocaine, two four-wheelers, four mobile phones, and a card swiping machine.
According to sources, the sleuths of the department conducted a raid on a residence located on road number 12 in Banjara Hills.
They also seized Rs. 3.5 lakh cash from Shaik Fahad, 37, and his wife Salima Shaik, 27. The couple is a resident of Towli Chowki. The officials have also seized a red Swift which was reportedly used in the transportation of the drugs and money.
N. Anjireddy, Assitant Superintendent Excise with the Enforcement Department said, "On June 2 our team detected a case at Road No. 5, Film Nagar, Jubilee Hills and seized seven gram of cocaine, two gram of opium, Rs.1.13 lakh cash and three motorcycles that were used for transportation of drugs. They also arrested two persons–B. Santosh and Mohammad Masood. Shaik Fahad who was with them managed to escape.
Later Shaik Fahad and his wife were caught while they were trying to sell cocaine at Road No 12.
It was revealed during the investigation that Fahad was allegedly running a prostitution racket earlier in Banjara Hills and Jubilee Hills.
He was arrested under Prevention of Illegal Trafficking Act along with his associates in January last year by the cops attached with Jubilee Hills police station.
C Vivekananda Reddy, Deputy Commissioner of Excise Department, said, "Fahad was released from jail later. He then shifted his base to Road No.5 Film Nagar from where he was running a prostitution racket. He was also purchasing drugs from a Nigerian living in Sun City locality.
According to P. Narender, Inspector of Police, "Fahad was selling a gram of cocaine for Rs. 7,500 to customers in Banjara Hills, Jubilee Hills, Madhapur, Gachibowli, and Kukatpally. By engaging staff naming B. Santosh, Mohd Masood, and Suresh. They were supplying cocaine, opium, and MDMA or Methylenedioxymethamphetamine."
Another police officer, J.Ravi, said, "Fahad used to receive orders over mobile phones and WhatsApp. Several drug consumers have been named in the case under Section 27 of the NDPS Act for the consumption of drugs."
Subscribe us on