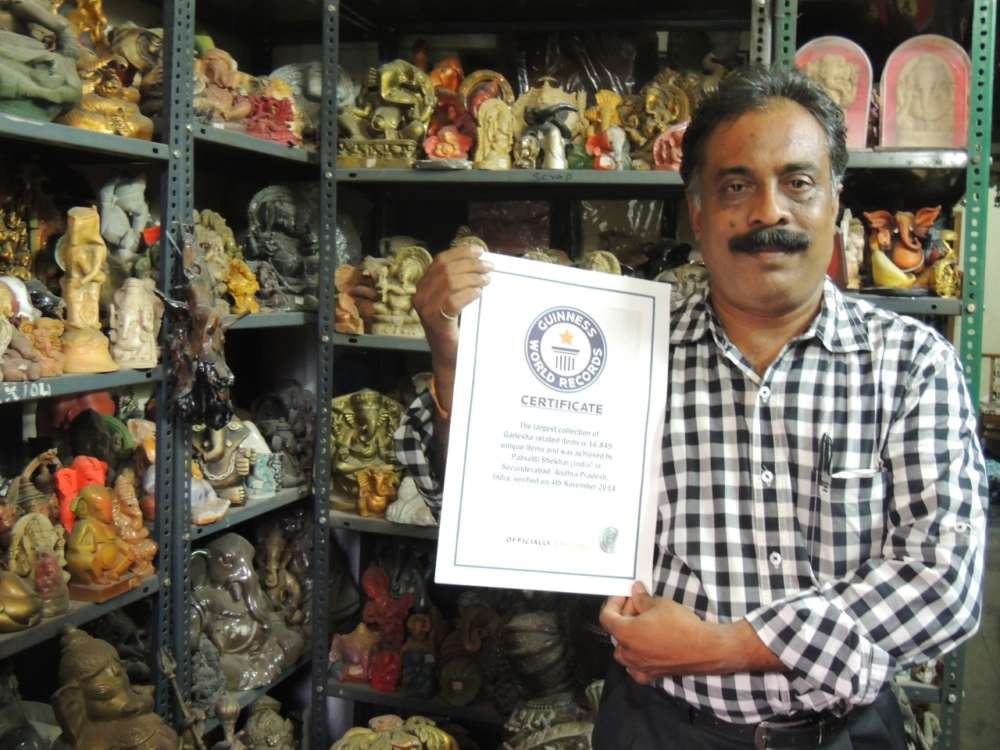 Hyderabad: You might have heard about people collecting coins, currencies or even stamps. But have you ever heard of someone who found his love in collecting idols of Lord Ganesha?
Meet the man who has been collecting and preserving the idols of Lord Ganesha for 46 years. He is Pabsetti Shekhar, a 59-year-old professional banker.
A resident of West Marredpally in Secunderabad he has built a unique collection of close to 20,000 Ganesh idols. That is not enough. He has also converted part of his home into a museum that houses the Ganesh idols. What makes this collection more interesting is that no two idols are the same.
Speaking to Siasat.com he said, "I have collected idols from US, Japan, China, Afghanistan, Singapore, Indonesia, Malaysia, Egypt, Nepal, Sri Lanka, Germany, South Africa, Kenya, Korea, Borneo islands, Tibet, Cambodia, Pakistan, Bangladesh, Thailand, Mongolia, Belgium, Turkey, Iran and the UK."
Even the material used to make the idols are diverse that include gold, silver, bronze, brass, aluminum, precious stones, terracotta, crystal, glass, bi-metal, beetle nut, Ivory, coral, granite, soapstone, marble, black stone, tiger stone, sandstone, plaster of Paris etc.
Rows and rows of Ganesh idols of various shapes, sizes, colours, forms occupy every inch of his home at Marredpally.
"This stunning collection did not happen overnight, I started this Ganesh idol collection in my childhood when I was just twelve years old. What began on that day with one idol has now reached 19,022 and is going strong year by year," he says
"The collection has 32 different forms of Ganesh statues right from Bala Ganapati to Sankatahara Ganapati and Shub Drishti Ganesh, the 33rd form of Ganesh. This all is in addition to 12 Raasi Ganapati," he added.
A special item in his collection is a five-trunked Ganesha which was made in Bastar, Chhattisgarh, by a sculpture under his supervision. This statue is made of brass and is one-foot long weighing five kilograms.
"We might have heard about five-faced (Pancha Mukha) Ganesha but a five-trunked Ganesha is not heard of. Taking a cue from an old book I read, I made this idol happen," explains Shekar.
It's not just idols. Shekhar also has some 20,462 photographs which include 7,853 postcards, 1,098 posters, 195 books, 200 key chains and 201 videos and audio on Ganesh.
Shekhar has already made it to the Guinness book of world records for the largest collection of Ganesha-related items.
Awards won by Mr. Shekar
Shekar is compiling information about various types of Ganesha idols, temples, the rituals and the nomenclature from across the world. The documentation is under process. He intends to use the money made from selling the copies for charity.
"Only 18 months are left for my retirement. After that I am planning to build a new floor so as to put the rest of the collection for public display," he informs.
Shekhar says in his childhood he has visited different mosques, churches and temples. "I believe in the omnipresence of God," he adds.
He adds by saying that he has read the Quran, Bible and Puranas. "Every religion teaches us the message of brotherhood and peace," he asserts.
Subscribe us on