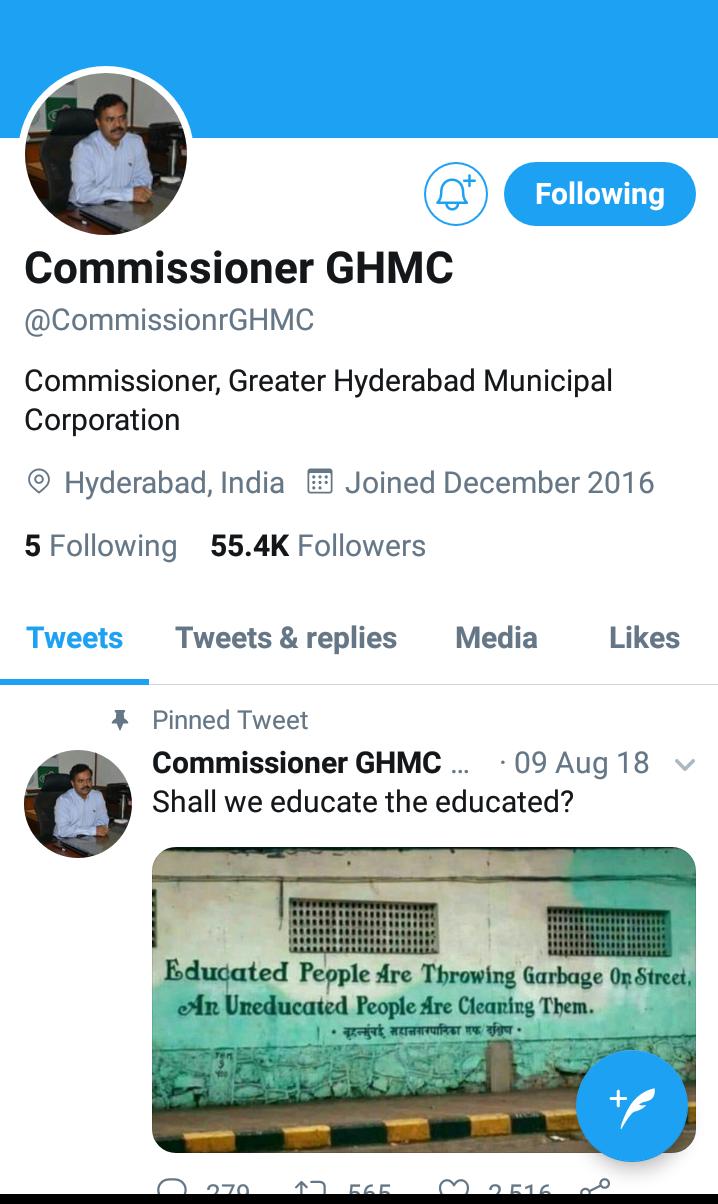 Hyderabad: The GHMC (Greater Hyderabad Municipal Corporation) has a distinction of having more Twitter follower's also known as 'tweeps' than any other Municipal Corporations in the country.
Currently, GHMC has more than 1 lakh twitters followers and behind GHMC the Ahmadabad Municipal Corporation comes second with 40,100 Twitter followers.
The account of Commissioner GHMC has twitter followers around 55,400.
Driven by rising citizen expectations and the need for government innovation, social media has become a key component of e-government in a very short period of time.
Social media provides the ability for users to connect with each and form communities to socialize, share information, or to achieve a common goal or interest. Social media empowers users as it gives them a platform to speak.
The effective means of communication for solving public grievances and getting feedbacks through social networking sites are the new trend. These days the number of followers determines the impact one has over the public.
Bangalore which is known as the IT hub of India, It's Municipal Corporation has only 26,800 twitter followers. The Surat Municipal Corporation who won the title of as Swachh city in Swachh Bharath Swavekshan ranking 2018 has 4,100 twitter followers.
The other Municipal Corporations with twitter followers are Pune Municipal Corporation 21,400. New Delhi Municipal Corporation 7,400. Greater Vishaka Municipal Corporation 3,300. The Warangal Municipal Corporation is having 3,764 twitter followers. The least Twitter followers are with Patna Nagar Nigam Corporation with 369 only.
"The main reason behind having more number of twitter followers is due to the immediate response given to the citizen's grievances and rectifying the same."
"The GHMC social media operators make sure that the complaints and feedbacks are checked regularly on GHMC app, Twitter, Facebook, e-mails, and Praja Vani programme." Said a senior official of GHMC.
Authored by Roshan Bint Raheem
Subscribe us on