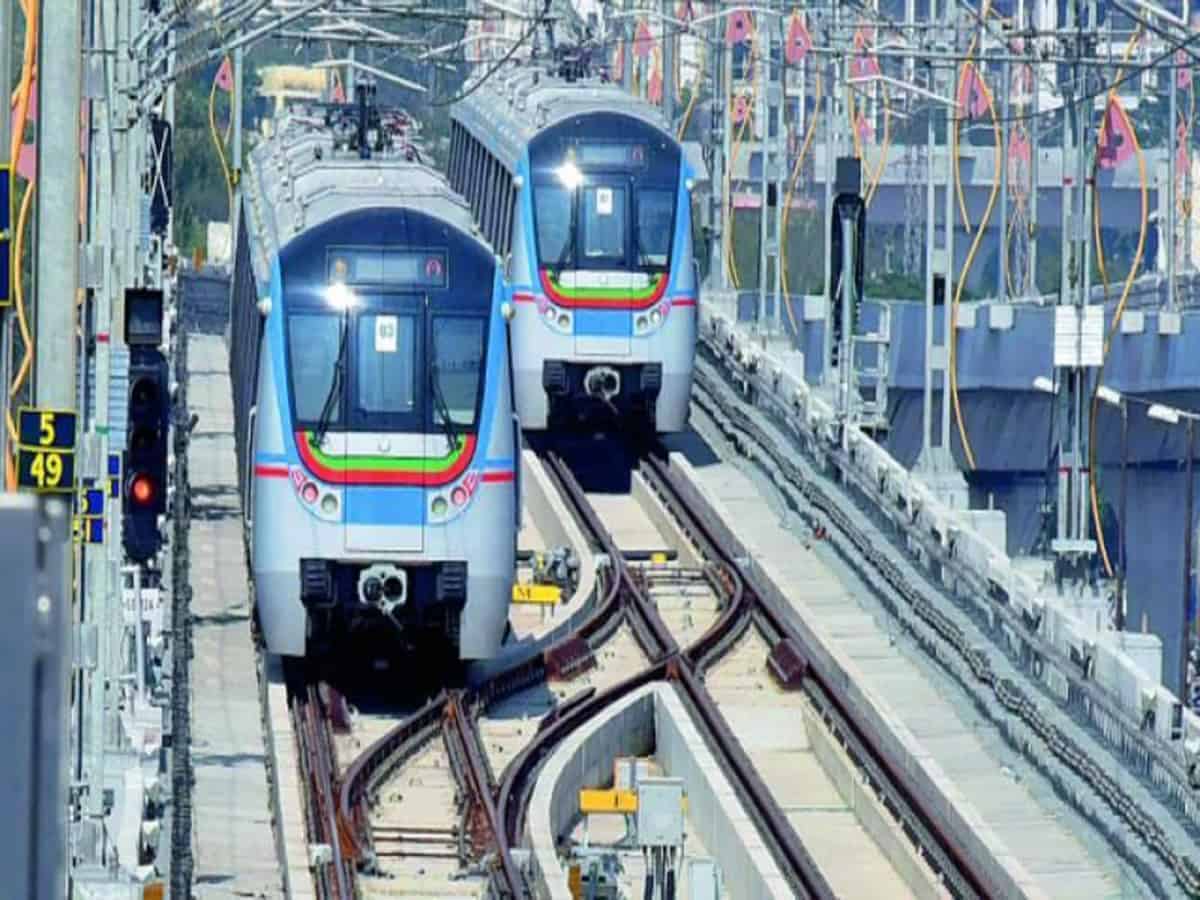 Hyderabad: After a gap of 169 days, the Hyderabad Metro Rail resumed its services on Monday with new mandatory COVID-19 safety guidelines, but there was a big drop in the number of passengers travelling.
The services were resumed on one of the three corridors with restricted hours of operations and elaborate measures for thermal screening of passengers, sanitisation and social distancing.
Timing of Hyderabad Metro Rail
Hyderabad Metro Rail Limited (HMRL) officials said train operations resumed on the 29-kilometre LB Nagar-Miyapur corridor at 7 a.m. After five hours, the services were stopped and they will resume at 4 p.m. and will continue till 9 p.m.
The same timings will continue on Tuesday when the second Nagole-Raidurg corridor will be re-opened. However, from on Wednesday trains will be operated on all three corridors including Jubilee Bus Station (JBS) to Mahatma Gandhi Bus Station (MGBS) from 7 a.m. to 9 p.m.
Before the Covid outbreak, Metro trains operated from 5 a.m. to 11.30 p.m.
Capacity reduced to one-third
While 1,000 passengers used to travel in each train before the COVID-induced lockdown, the authorities have reduced the capacity to one-third to ensure social distancing.
'Please don't sit here' stickers were pasted on every alternate seat while markings were made for the standing passengers to ensure social distancing. However, the number of passengers was far below the permitted capacity and there were no standing passengers.
Most of those seen availing the service were office-goers. They were happy over resumption of services and also expressed satisfaction over the measures taken for sanitisation and distancing.
"For the last five months, I was going to my office on my bike. Though there is less vehicular traffic on roads, I prefer travelling by the Metro for its comfortable journey," said Srinivas Reddy, a private employee travelling from Miyapur to LB Nagar.
Some passengers said they were missing Metro services as reaching their destination through vehicular traffic was not only stressful but they were also incurring higher expenses on auto-rickshaws or cabs.
Great relief
A teacher in a government school, who travels from Kukatpally Housing Board Colony to Falaknuma in the old city every day, said the resumption of Metro services has come as a great relief to her.
The Hyderabad Metro Rail was operating 55 trains carrying about 4.5 lakh passengers every day before operations were suspended on March 22.
Gandhi Hospital, Bharat Nagar, Moosapet, Musheerabad and Yusufguda, the five stations falling in containment zones, will remain closed
HMRL Managing Director N. V. S. Reddy said the services were resumed with a frequency of five minutes but the same may be improved depending on the demand.
Under COVID guidelines, wearing a mask is mandatory for passengers. Security personnel at entry points to the stations were checking the body temperature of the passengers with thermo guns.
Officials said in case a passenger has a high temperature or shows any symptoms for COVID-19, he or she will be taken to an isolation room at the station and medical assistance will be provided.
Persons with COVID symptoms must avoid travelling
They appealed to people with COVID symptoms such as fever, cold and cough to avoid travel.
Coins usage as tokens has been dispensed with and passengers have been requested to go for smart cards or the QR code based tickets.
Authorities have also made elaborate arrangements for sanitisation at stations and in trains. Pedal hand sanitising stands were arranged at all entry points.
Sanitisation points
Sanitisation points have also been created for luggage before it passes through the x-ray machine. HMRL officials appealed to passengers to carry minimum luggage and not to carry metal objects to make the frisking process hassle-free.
Passengers have also been advised to carry a sanitiser bottle with them. Those entering stations were also advised to download the Arogya Setu app but this has not been made mandatory.
Officials have also made arrangements for disinfection of touch points, stations and trains thoroughly after every few hours and at the end of the day.
HMRL authorities also reconfigured air-conditioning to let in more fresh air from about 30 per cent to 75 per cent adhering to the latest safety norms issued by the health authorities.
Social distancing
Social distancing is being monitored through CCTV cameras, station controllers and train operators. Waiting time for trains at the stations increased from 20 seconds to 30 seconds to ensure that passengers don't come in contact while boarding or de-boarding.
The 73-km elevated metro is the biggest metro project in the world in public private partnership (PPP) model built at a total cost of Rs 20,000 crore.
L&T MRHL, the private partner in the project, is estimated to have suffered Rs 300 crore loss during the last five-and-a-half months.
In February this year, with the launch of the 11-km stretch from JBS to MGBS, Hyderabad Metro Rail had become the second largest metro rail network in the country after Delhi, covering a distance of 69.2 km.
Subscribe us on