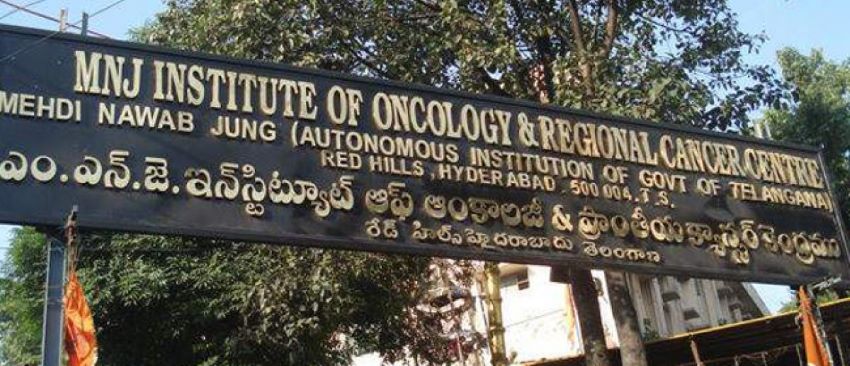 Hyderabad: Mehdi Nawaj Jung (MNJ) Institute of Oncology is all set to get a high tech cancer block at cost of Rs 40 crore in a move to boost cancer treatment at government hospitals.
Health Minister Etela Rajender laid the foundation stone for the new block on Friday. The Aurobindo Pharma is funding the construction, while developing the infrastructure and staffing will be done by the Telangana government, TT reports.
The new cancer block will be adding an additional 250 beds taking the hospital's bed strength to 700.
"We are recruiting 250 healthcare workers, which will be enough to support the additional beds and patients in the new block. The government will procure additional infrastructure for the new block," MNJ Cancer Hospital director Dr. N Jayalatha said.
Since the inpatient load was close to nearly 1000 patients the hospital has been struggling for quite long to add an additional 250 beds with the authorities taking series measures to enhance their bed strength.
The hospital was successful in adding 200 beds this April and also received the status of State Cancer Institute (SCI).
"We recruited 50 senior doctors while filling posts for nurses, lab technicians and paramedics will be taken up through the TS Medical Recruitment Board," added Dr. Jayalatha.
Speaking of the new cancer block, two floors with eight state-of-the-art modular operation theatres will be coming up, while the additional 200 beds shall be placed on the first three floors of the new building within the campus that shall also comprise of floors comprise intensive care units (ICUs), recovery wards and diagnostic facilities.
Nearly Rs 80 crore was invested to procure a PET CT scan and Cyberknife cancer treatment system to improve drug delivery during radiotherapy.
Subscribe us on