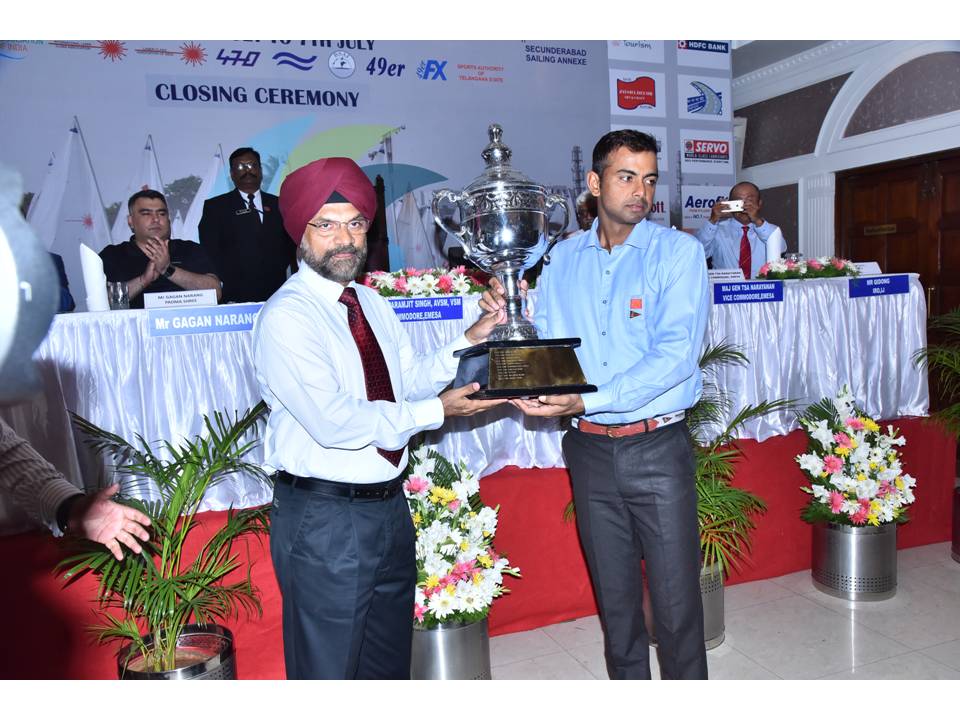 Hyderabad: The Hyderabad Sailing Week 2019 concluded with a grand ceremony at Sailing Annexe, Secunderabad Club on Sunday . The Event was jointly hosted by the EME Sailing Association, the Secunderabad Sailing Club and Laser Class Association of India. Lt Gen Paramjith Singh ,AVSM,VSM President Laser Class Association of India (LCAI) presented the awards to wining sailors on high standard of sailing.
The event has witnessed a total participation of 192 sailors and 173 boats from 17 prominent sailing clubs across the country. A total of 22 women sailors have also participated in various categories of this Senior Multi Class Sailing Championship'.
The prevailing weather conditions and wind speed provided ideal setting for the Regatta, which resulted in the championship witnessing stiff competition in all categories. Laser 4.7 open trophy and Laser 4.7 (boys) under 18 years trophy presented to Master Rammilan Yadav of NSS(Bhopal) and Laser 4.7 (Girls) under 18 year trophy presented to Miss Ritika Dangi of NSS (Bhopal).
The prestigious Secunderabad Sailing Club Rolling Trophy for overall winner without discard in Laser Radial Rig and biggest Laser Radial open trophy for overall winner presented to Master Gitesh of AYN, Laser Radial Women Trophy for overall winner in women category given to Nethra Kumanan of TNSA. Laser Standard Open trophy for overall winner in Laser Standard, the prestigious 'Katari Bowl' for maximum guns in Laser Standard Rig and Late Lt Cdr Kelly S Rao trophy presented to Master Gitesh of AYN.
The passion of Mr Murali Kanuri aged 68 yrs, the oldest participant of the Regatta and the enthusiasm of Master Anshraj Bundela & Shaurya aged 13 yrs, the youngest participant, was both inspiring and heartening for all the spectators and organizers.
Addressing the gathering Lt Gen Paramjith Singh said, "Sailing being a sport which entails collaborating with the natural elements without any pollution will definitely assist the cause of the Hussain Sagar Lake, located in the heart of the city which is facing pollution pressure. To restore this large inland water lake to its previous glory, a large mumber of initiatives were taken up by the organizers which included Green Brigade Walkathon and Biker's Rally to spread the message of clean and green Hussain Sagar Lake.
The event has witnessed a large of participants from twin cities of Hyderabad and Secunderabad.
mohammedhussain.reporter@gmail.com
Subscribe us on